Flowserve (NYSE:FLS) updated its FY 2021
After-Hours earnings guidance on Tuesday. The company provided EPS guidance of 1.30-1.55 for the period, compared to the Thomson Reuters consensus EPS estimate of $1.64. The company issued revenue guidance of $3.467-3.579 billion, compared to the consensus revenue estimate of $3.57 billion.
FLS stock traded up $0.41 during trading hours on Tuesday, hitting $39.55. 1,614,305 shares of the stock traded hands, compared to its average volume of 856,664. The stock has a 50-day simple moving average of $37.75 and a 200 day simple moving average of $33.04. Flowserve has a one year low of $18.98 and a one year high of $44.27. The company has a market cap of $5.15 billion, a P/E ratio of 39.95, a P/E/G ratio of 2.74 and a beta of 1.75. The company has a current ratio of 2.57, a quick ratio of 1.91 and a debt-to-equity ratio of 1.00.
The company also recently announced a quarterly dividend, which will be paid on Friday, April 9th. Investors of record on Friday, March 26th will be paid a dividend of $0.20 per share. The ex-dividend date is Thursday, March 25th. This represents a $0.80 annualized dividend and a yield of 2.02%. Flowserve's dividend payout ratio is currently 36.36%.
FLS has been the subject of several research reports. Stifel Nicolaus raised Flowserve from a hold rating to a buy rating and set a $45.00 target price for the company in a research note on Tuesday, December 15th. Seaport Global Securities reaffirmed a neutral rating on shares of Flowserve in a report on Friday, November 6th. Credit Suisse Group downgraded Flowserve from an outperform rating to a neutral rating and upped their target price for the company from $31.00 to $38.00 in a report on Monday, January 4th. Oppenheimer reaffirmed a hold rating on shares of Flowserve in a report on Wednesday, January 27th. Finally, Morgan Stanley upped their target price on Flowserve from $35.00 to $38.00 and gave the company an equal weight rating in a report on Wednesday, January 20th. One equities research analyst has rated the stock with a sell rating, nine have given a hold rating and two have assigned a buy rating to the company's stock. The stock currently has an average rating of Hold and a consensus price target of $33.00.
Flowserve Company Profile
Flowserve Corporation designs, develops, manufactures, distributes, and services industrial flow management equipment in the United States, Europe, the Middle East, Africa, Asia, and internationally. The company operates through two segments: Flowserve Pump Division (FPD) and Flow Control Division (FCD).
Read More: What is a Candlestick Chart?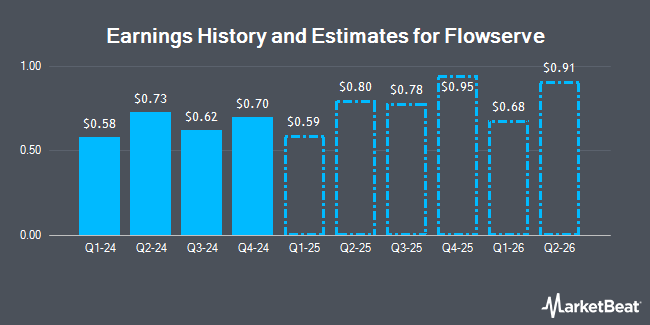 Receive News & Ratings for Flowserve Daily - Enter your email address below to receive a concise daily summary of the latest news and analysts' ratings for Flowserve and related companies with MarketBeat.com's FREE daily email newsletter.