Drax Group plc (DRX.L) (LON:DRX) had its target price boosted by Barclays from GBX 400 ($5.23) to GBX 550 ($7.19) in a report published on Wednesday morning, Analyst Ratings Network reports. They currently have an overweight rating on the stock.
Shares of Drax Group plc (DRX.L) stock opened at GBX 384 ($5.02) on Wednesday. The stock's 50-day moving average is GBX 356.98 and its 200 day moving average is GBX 301.78. Drax Group plc has a one year low of GBX 118.90 ($1.55) and a one year high of GBX 401.80 ($5.25). The company has a debt-to-equity ratio of 72.88, a current ratio of 1.43 and a quick ratio of 0.78. The firm has a market cap of £1.52 billion and a price-to-earnings ratio of -25.73.
Drax Group plc (DRX.L) Company Profile
Drax Group plc, together with its subsidiaries, engages in the generation and supply of electricity in the United Kingdom. The company operates through three segments: Generation, Customers, and, Pellet Production. It produces low carbon and renewable electricity; and provides system support services to the electricity grid.
Read More: Why do earnings reports matter?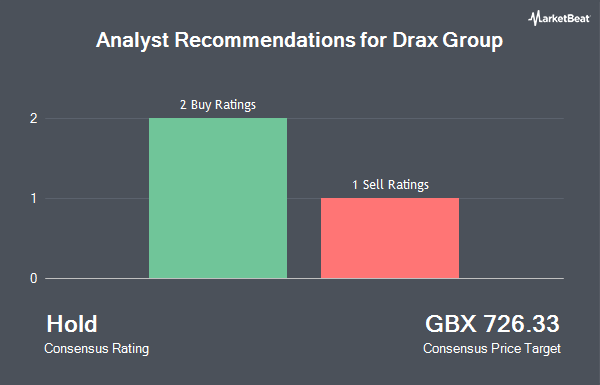 Receive News & Ratings for Drax Group plc (DRX.L) Daily - Enter your email address below to receive a concise daily summary of the latest news and analysts' ratings for Drax Group plc (DRX.L) and related companies with MarketBeat.com's FREE daily email newsletter.