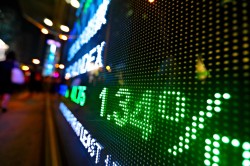 Diamond Offshore Drilling, Inc. (OTCMKTS:DOFSQ) was the target of a large decrease in short interest in September. As of September 30th, there was short interest totalling 3,726,700 shares, a decrease of 21.9% from the September 15th total of 4,771,100 shares. Based on an average daily volume of 561,700 shares, the days-to-cover ratio is currently 6.6 days.
Several brokerages have commented on DOFSQ. ValuEngine lowered shares of Diamond Offshore Drilling from a "buy" rating to a "hold" rating in a report on Thursday, August 6th. Zacks Investment Research raised shares of Diamond Offshore Drilling from a "sell" rating to a "hold" rating in a research report on Friday, July 24th.
OTCMKTS:DOFSQ opened at $0.20 on Friday. The stock has a 50-day simple moving average of $0.18. The stock has a market cap of $27.61 million, a P/E ratio of -0.02 and a beta of 0.93. Diamond Offshore Drilling has a 1-year low of $0.10 and a 1-year high of $7.84.
Diamond Offshore Drilling (OTCMKTS:DOFSQ) last announced its quarterly earnings data on Monday, August 3rd. The company reported ($0.95) EPS for the quarter, missing the Thomson Reuters' consensus estimate of ($0.68) by ($0.27). Diamond Offshore Drilling had a negative net margin of 122.85% and a negative return on equity of 13.58%. The firm had revenue of $198.20 million for the quarter, compared to analysts' expectations of $243.40 million. On average, analysts predict that Diamond Offshore Drilling will post -2.8 earnings per share for the current fiscal year.
Diamond Offshore Drilling Company Profile
Diamond Offshore Drilling, Inc provides contract drilling services to the energy industry worldwide. The company operates a fleet of 15 offshore drilling rigs, including 4 drillships and 11 semisubmersible rigs. It serves independent oil and gas companies, and government-owned oil companies. The company was founded in 1953 and is headquartered in Houston, Texas.
See Also: What are earnings reports?
Receive News & Ratings for Diamond Offshore Drilling Daily - Enter your email address below to receive a concise daily summary of the latest news and analysts' ratings for Diamond Offshore Drilling and related companies with MarketBeat.com's FREE daily email newsletter.