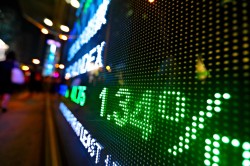 China Cable and Communication (NASDAQ:GTEC) was the target of a significant increase in short interest in the month of July. As of July 15th, there was short interest totalling 19,700 shares, an increase of 66.9% from the June 30th total of 11,800 shares. Based on an average trading volume of 39,500 shares, the days-to-cover ratio is presently 0.5 days. Approximately 1.0% of the company's shares are sold short.
NASDAQ GTEC opened at $2.63 on Friday. The company's 50 day simple moving average is $2.77. China Cable and Communication has a 52-week low of $1.12 and a 52-week high of $10.58.
China Cable and Communication (NASDAQ:GTEC) last released its quarterly earnings data on Monday, June 29th. The company reported $0.03 earnings per share (EPS) for the quarter. The business had revenue of $9.87 million for the quarter.
Separately, ValuEngine raised shares of China Cable and Communication from a "hold" rating to a "buy" rating in a research report on Thursday, July 2nd.
China Cable and Communication Company Profile
Greenland Technologies Holding Corporation, through its subsidiaries, develops and manufactures transmission products for material handling machineries in the People's Republic of China. The company offers transmission products, such as mechanical and hydraulic gearboxes; and transaxles to small and medium-sized forklift trucks for use in manufacturing and logistic applications, such as factories, workshops, warehouses, fulfillment centers, shipyards, and sea ports.
Further Reading: Consumer behavior in bull markets
Receive News & Ratings for China Cable and Communication Daily - Enter your email address below to receive a concise daily summary of the latest news and analysts' ratings for China Cable and Communication and related companies with MarketBeat.com's FREE daily email newsletter.