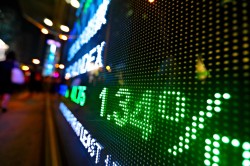 Planet Green (NASDAQ:PLAG) was downgraded by TheStreet from a "c-" rating to a "d" rating in a note issued to investors on Thursday, TheStreetRatingsTable reports.
NASDAQ:PLAG traded down $0.15 on Thursday, hitting $2.70. The stock had a trading volume of 22,336 shares, compared to its average volume of 116,690. The business's 50-day simple moving average is $3.71 and its two-hundred day simple moving average is $3.87. Planet Green has a 52-week low of $1.92 and a 52-week high of $7.22.
Planet Green Company Profile
Planet Green Holdings Corp., through its subsidiaries, develops, manufactures, markets, and sells various food products in the People's Republic of China. The company offers chestnut products, including frozen chestnuts; and convenience foods, such as ready-to-cook and ready-to-eat food products.
Featured Story: How to Trade Using Analysts Ratings
Receive News & Ratings for Planet Green Daily - Enter your email address below to receive a concise daily summary of the latest news and analysts' ratings for Planet Green and related companies with MarketBeat.com's FREE daily email newsletter.