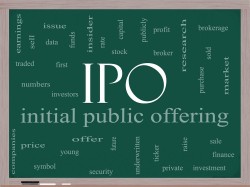 SiTime (SITM) plans to raise $60 million in an initial public offering (IPO) on Thursday, November 21st, IPO Scoop reports. The company will issue 4,300,000 shares at $13.00-$15.00 per share.
In the last 12 months, SiTime generated $78.8 million in revenue and had a net loss of $5.6 million. SiTime has a market-cap of $196.4 million.
Barclays and Stifel served as the underwriters for the IPO and Needham & Company, Raymond James and Roth Capital Partners were co-managers.
SiTime provided the following description of their company for its IPO: " We are a leading provider of silicon timing systems solutions. Our timing solutions are the heartbeat of our customers' electronic systems, solving complex timing problems and enabling industry-leading products. We are disrupting a timing market generally addressed by 70-year old technology. According to Dedalus Consulting and our estimates, the global timing market is over $7.7 billion as of 2018 and is expected to grow to $10.1 billion by 2024. To date, we have generated over 99% of our revenue from sales of oscillator systems, which represent approximately $3.8 billion of this $7.7 billion market. ".
SiTime was founded in 2003 and has 135 employees. The company is located at 5451 Patrick Henry Drive, Santa Clara, CA 95054, US and can be reached via phone at (408) 328-4400 or on the web at http://www.sitime.com.
Receive News & Ratings for SiTime Daily - Enter your email address below to receive a concise daily summary of the latest news and analysts' ratings for SiTime and related companies with MarketBeat.com's FREE daily email newsletter.