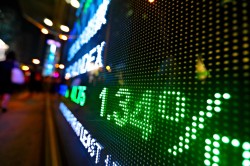 Webjet Limited (ASX:WEB) insider Brad Holman acquired 8,000 shares of the company's stock in a transaction that occurred on Friday, September 13th. The shares were bought at an average price of A$12.18 ($8.64) per share, for a total transaction of A$97,440.00 ($69,106.38).
Shares of ASX:WEB traded down A$0.30 ($0.21) during midday trading on Friday, reaching A$11.51 ($8.16). 1,377,303 shares of the company were exchanged, compared to its average volume of 722,472. The stock has a fifty day simple moving average of A$12.93 and a two-hundred day simple moving average of A$14.52. Webjet Limited has a fifty-two week low of A$10.18 ($7.22) and a fifty-two week high of A$17.19 ($12.19). The firm has a market cap of $1.56 billion and a PE ratio of 24.59. The company has a quick ratio of 0.90, a current ratio of 0.94 and a debt-to-equity ratio of 34.10.
The company also recently declared a Final dividend, which will be paid on Thursday, October 10th. Shareholders of record on Thursday, October 10th will be paid a $0.135 dividend. This represents a dividend yield of 1.04%. The ex-dividend date is Wednesday, September 18th. Webjet's dividend payout ratio is 57.69%.
About Webjet
Webjet Limited provides online travel booking services in Australia, New Zealand, Europe, and internationally. It operates through Business to Consumer Travel and Business to Business Travel segments. The company enables its customers to compare, combine, and book domestic and international air travel, hotel accommodations, holiday packages, travel insurances, rental cars, motorhomes, and cruises, as well as offers digital marketing consultancy services.
Further Reading: What does the Producer Price Index (PPI) tell investors?
Receive News & Ratings for Webjet Daily - Enter your email address below to receive a concise daily summary of the latest news and analysts' ratings for Webjet and related companies with MarketBeat.com's FREE daily email newsletter.