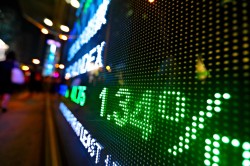 Huami (NYSE:HMI) will be issuing its quarterly earnings data before the market opens on Monday, August 19th. Huami has set its Q2 2019 guidance at EPS.
Huami (NYSE:HMI) last released its quarterly earnings results on Monday, June 3rd. The company reported $0.18 EPS for the quarter. Huami had a return on equity of 23.00% and a net margin of 10.35%. The firm had revenue of $119.14 million for the quarter.
NYSE HMI opened at $11.27 on Friday. The business's 50-day moving average price is $10.51 and its two-hundred day moving average price is $11.80. Huami has a 12 month low of $7.27 and a 12 month high of $19.66. The firm has a market capitalization of $637.13 million, a PE ratio of 11.65 and a beta of 2.59.
HMI has been the topic of a number of analyst reports. ValuEngine upgraded Huami from a "hold" rating to a "buy" rating in a research report on Thursday, June 27th. TheStreet upgraded Huami from a "d+" rating to a "c-" rating in a research report on Wednesday, June 26th.
Huami Company Profile
Huami Corporation, a biometric and activity data-driven company, develops, manufactures, and sells smart wearable technological devices in the People's Republic of China. It operates through two segments, Xiaomi Wearable Products, and Self-Branded Products and Others. The company offers smart bands, watches, and scales; and a range of accessories, including bands, watch straps, necklaces, sportswear, etc.
Featured Article: Bear Market – How and Why They Occur
Receive News & Ratings for Huami Daily - Enter your email address below to receive a concise daily summary of the latest news and analysts' ratings for Huami and related companies with MarketBeat.com's FREE daily email newsletter.