Northland Securities reiterated their buy rating on shares of Aridis Pharmaceuticals (NASDAQ:ARDS) in a report issued on Tuesday, AnalystRatings.com reports. They currently have a $40.00 price target on the stock.
"We note that the SIBV agreement included purchase of $10MM of Aridis common shares at a 31% premium; a $5MM refundable upfront payment; and an additional $10MM payment upon execution of the agreement by August 31, 2019. The Co.'s key clinical programs continue to progress well. Aridis remains on schedule to report topline data in 3Q19 for AR-105's Phase 2 clinical trial for the treatment of ventilator- associated pneumonia (VAP) caused by Pseudomonas aeruginosa. 3 program for the treatment of VAP related to Staphylococcus aureus continues to advance, with interim data expected in 1Q20, with full topline data in late-2020."," Northland Securities' analyst wrote.
Other analysts have also recently issued research reports about the company. Zacks Investment Research upgraded Aridis Pharmaceuticals from a sell rating to a hold rating in a report on Tuesday, July 16th. Maxim Group restated a buy rating on shares of Aridis Pharmaceuticals in a report on Wednesday, July 31st. Finally, ValuEngine upgraded Aridis Pharmaceuticals from a hold rating to a buy rating in a report on Thursday, August 1st. One research analyst has rated the stock with a sell rating and six have assigned a buy rating to the company. Aridis Pharmaceuticals currently has an average rating of Buy and a consensus price target of $27.50.
ARDS opened at $7.00 on Tuesday. The business has a 50-day moving average of $9.53 and a two-hundred day moving average of $9.46. Aridis Pharmaceuticals has a 12 month low of $6.91 and a 12 month high of $13.85.
Aridis Pharmaceuticals (NASDAQ:ARDS) last posted its quarterly earnings results on Monday, August 12th. The company reported ($1.03) EPS for the quarter, missing the consensus estimate of ($0.84) by ($0.19). Aridis Pharmaceuticals had a negative net margin of 660.78% and a negative return on equity of 130.22%. As a group, sell-side analysts forecast that Aridis Pharmaceuticals will post -3.15 EPS for the current fiscal year.
Aridis Pharmaceuticals Company Profile
Aridis Pharmaceuticals Inc, a late-stage biopharmaceutical company, focuses on the discovery and development of targeted immunotherapy using fully human monoclonal antibodies (mAb) to treat life-threatening infections. Its lead product candidate is AR-301, a fully human mAb of immunoglobulin 1 (IgG1) that is in Phase III pivotal trials for the treatment of lung infections resulting from S.
Further Reading: Margin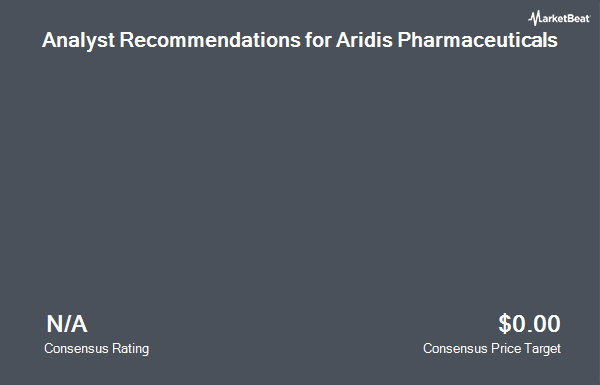 Receive News & Ratings for Aridis Pharmaceuticals Daily - Enter your email address below to receive a concise daily summary of the latest news and analysts' ratings for Aridis Pharmaceuticals and related companies with MarketBeat.com's FREE daily email newsletter.