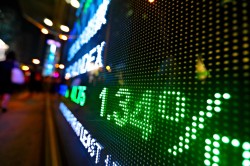 Akumin (TSE:AKU.U) had its target price upped by equities research analysts at Cormark from C$5.25 to C$5.50 in a research note issued to investors on Thursday, BayStreet.CA reports. Cormark's price objective points to a potential upside of 69.23% from the stock's previous close.
AKU.U traded up C$0.10 during midday trading on Thursday, reaching C$3.25. The company's stock had a trading volume of 3,700 shares. Akumin has a 1 year low of C$3.16 and a 1 year high of C$4.34. The company's 50-day simple moving average is C$3.38.
Featured Article: What are the qualifications of a portfolio manager?
Receive News & Ratings for Akumin Daily - Enter your email address below to receive a concise daily summary of the latest news and analysts' ratings for Akumin and related companies with MarketBeat.com's FREE daily email newsletter.