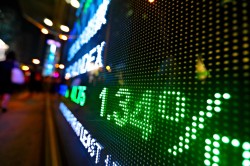 Avalon Globocare Corp (OTCMKTS:AVCO) was up 0.5% during mid-day trading on Friday . The company traded as high as $2.17 and last traded at $2.15, approximately 35,760 shares changed hands during trading. A decline of 92% from the average daily volume of 430,929 shares. The stock had previously closed at $2.14.
The stock has a 50 day moving average of $2.25.
Avalon Globocare (OTCMKTS:AVCO) last posted its earnings results on Tuesday, May 14th. The company reported ($0.06) earnings per share (EPS) for the quarter. Avalon Globocare had a negative return on equity of 81.16% and a negative net margin of 365.09%. The business had revenue of $0.28 million for the quarter.
In other Avalon Globocare news, Director Wenzhao Lu bought 21,000 shares of the stock in a transaction that occurred on Thursday, June 6th. The stock was acquired at an average cost of $2.03 per share, with a total value of $42,630.00. The transaction was disclosed in a filing with the SEC, which is accessible through this link. 75.00% of the stock is currently owned by corporate insiders.
An institutional investor recently bought a new position in Avalon Globocare stock. Tibra Equities Europe Ltd purchased a new position in Avalon Globocare Corp (OTCMKTS:AVCO) during the first quarter, according to the company in its most recent 13F filing with the Securities and Exchange Commission. The fund purchased 39,774 shares of the company's stock, valued at approximately $215,000. Tibra Equities Europe Ltd owned 0.05% of Avalon Globocare as of its most recent filing with the Securities and Exchange Commission.
Avalon Globocare Company Profile (OTCMKTS:AVCO)
Avalon GloboCare Corp., together with its subsidiaries, engages in integrating and managing healthcare services and resources in the United States. It provides medical related consulting services and develops Avalon Cell and Avalon Rehab platforms that cover the areas of regenerative medicine, cell-based immunotherapy, and exosome technology, as well as rehabilitation medicine.
Further Reading: Price-Sales Ratio
Receive News & Ratings for Avalon Globocare Daily - Enter your email address below to receive a concise daily summary of the latest news and analysts' ratings for Avalon Globocare and related companies with MarketBeat.com's FREE daily email newsletter.