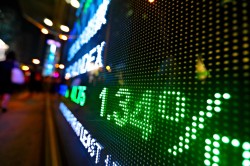 E-L Financial Corp Ltd (TSE:ELF) Director Duncan Newton Rowell Jackman purchased 100 shares of the firm's stock in a transaction on Tuesday, May 14th. The stock was bought at an average price of C$792.70 per share, for a total transaction of C$79,270.00. Following the acquisition, the director now owns 4,026 shares in the company, valued at C$3,191,410.20.
Shares of ELF traded down C$1.00 during mid-day trading on Friday, reaching C$795.00. The company had a trading volume of 600 shares, compared to its average volume of 694. The firm has a market cap of $3.20 billion and a PE ratio of 200.76. E-L Financial Corp Ltd has a fifty-two week low of C$734.03 and a fifty-two week high of C$834.00. The company has a quick ratio of 1.80, a current ratio of 2.00 and a debt-to-equity ratio of 7.48.
E-L Financial (TSE:ELF) last announced its quarterly earnings results on Thursday, March 7th. The insurance provider reported C($61.62) earnings per share for the quarter. The business had revenue of C($12.00) million for the quarter. As a group, equities research analysts anticipate that E-L Financial Corp Ltd will post 0.25 earnings per share for the current year.
TRADEMARK VIOLATION NOTICE: "E-L Financial Corp Ltd (ELF) Director Buys C$79,270.00 in Stock" was originally reported by The Lincolnian Online and is owned by of The Lincolnian Online. If you are viewing this piece on another publication, it was illegally stolen and republished in violation of U.S. and international copyright and trademark law. The correct version of this piece can be viewed at https://www.thelincolnianonline.com/2019/05/17/e-l-financial-corp-ltd-elf-director-buys-c79270-00-in-stock.html.
E-L Financial Company Profile
E-L Financial Corporation Limited operates as an investment and insurance holding company in Canada. It operates through two segments, E-L Corporate and Empire Life. The company owns investments in equities and fixed income securities directly and indirectly through common shares, investment funds, closed-end investment companies, and a limited partnership and other private companies.
Featured Article: Is it Safe to Invest in Commodities?
Receive News & Ratings for E-L Financial Daily - Enter your email address below to receive a concise daily summary of the latest news and analysts' ratings for E-L Financial and related companies with MarketBeat.com's FREE daily email newsletter.