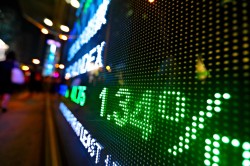 Millendo Therapeutics (NASDAQ:MLND) released its quarterly earnings data on Wednesday. The company reported ($0.78) EPS for the quarter, missing the Thomson Reuters' consensus estimate of ($0.70) by ($0.08), MarketWatch Earnings reports. Millendo Therapeutics had a negative return on equity of 41.84% and a negative net margin of 10,128.37%.
Shares of NASDAQ:MLND opened at $16.18 on Thursday. The company has a quick ratio of 8.50, a current ratio of 8.50 and a debt-to-equity ratio of 0.01. Millendo Therapeutics has a one year low of $6.77 and a one year high of $17.34. The firm has a market capitalization of $216.17 million, a price-to-earnings ratio of -0.92 and a beta of 3.30.
An institutional investor recently raised its position in Millendo Therapeutics stock. Morgan Stanley raised its position in Millendo Therapeutics Inc (NASDAQ:MLND) by 749.4% in the 1st quarter, according to the company in its most recent filing with the Securities and Exchange Commission (SEC). The firm owned 3,041 shares of the company's stock after purchasing an additional 2,683 shares during the period. Morgan Stanley's holdings in Millendo Therapeutics were worth $46,000 at the end of the most recent reporting period. 42.53% of the stock is currently owned by hedge funds and other institutional investors.
MLND has been the subject of several analyst reports. Jefferies Financial Group initiated coverage on shares of Millendo Therapeutics in a report on Wednesday, March 13th. They issued a "buy" rating and a $22.00 price objective for the company. ValuEngine downgraded shares of Millendo Therapeutics from a "buy" rating to a "hold" rating in a report on Saturday, February 2nd. Finally, Zacks Investment Research raised shares of Millendo Therapeutics from a "hold" rating to a "buy" rating and set a $18.00 price objective for the company in a report on Thursday, April 4th. Five equities research analysts have rated the stock with a buy rating, The stock presently has an average rating of "Buy" and a consensus price target of $23.25.
WARNING: "Millendo Therapeutics (MLND) Announces Quarterly Earnings Results, Misses Estimates By $0.08 EPS" was posted by The Lincolnian Online and is the property of of The Lincolnian Online. If you are reading this story on another publication, it was illegally copied and republished in violation of U.S. and international copyright and trademark laws. The original version of this story can be viewed at https://www.thelincolnianonline.com/2019/05/16/millendo-therapeutics-mlnd-announces-quarterly-earnings-results-misses-estimates-by-0-08-eps.html.
Millendo Therapeutics Company Profile
Millendo Therapeutics, Inc, a clinical-stage biopharmaceutical company, engages in the development of various treatments for orphan endocrine diseases in the United States. The company's lead drug candidates include livoletide, an unacylated ghrelin analogue to treat for Prader-Willi syndrome; and nevanimibe, which is in Phase 2b clinical development for the treatment of congenital adrenal hyperplasia and endogenous Cushing's syndrome.
See Also: What is a Fibonacci Channel?
Receive News & Ratings for Millendo Therapeutics Daily - Enter your email address below to receive a concise daily summary of the latest news and analysts' ratings for Millendo Therapeutics and related companies with MarketBeat.com's FREE daily email newsletter.