Eyenovia (NASDAQ:EYEN) is set to post its quarterly earnings results before the market opens on Tuesday, May 14th. Analysts expect Eyenovia to post earnings of ($0.51) per share for the quarter.
Eyenovia (NASDAQ:EYEN) last released its quarterly earnings results on Wednesday, March 27th. The company reported ($0.60) earnings per share (EPS) for the quarter, missing the Thomson Reuters' consensus estimate of ($0.43) by ($0.17). On average, analysts expect Eyenovia to post $-2 EPS for the current fiscal year and $-1 EPS for the next fiscal year.
Eyenovia stock opened at $6.00 on Tuesday. Eyenovia has a 12-month low of $2.40 and a 12-month high of $8.96. The stock has a market cap of $72.12 million, a price-to-earnings ratio of -3.30 and a beta of 1.68.
EYEN has been the topic of several research analyst reports. Zacks Investment Research cut shares of Eyenovia from a "hold" rating to a "sell" rating in a research report on Tuesday, March 12th. HC Wainwright set a $14.00 target price on shares of Eyenovia and gave the stock a "buy" rating in a research report on Tuesday, February 26th. Finally, Oppenheimer initiated coverage on shares of Eyenovia in a research report on Wednesday, April 24th. They issued an "outperform" rating and a $9.00 target price on the stock.
COPYRIGHT VIOLATION WARNING: "Eyenovia (EYEN) Set to Announce Earnings on Tuesday" was first published by The Lincolnian Online and is owned by of The Lincolnian Online. If you are accessing this article on another publication, it was copied illegally and republished in violation of international trademark and copyright law. The original version of this article can be read at https://www.thelincolnianonline.com/2019/05/07/eyenovia-eyen-set-to-announce-earnings-on-tuesday.html.
About Eyenovia
Eyenovia, Inc, a clinical stage biopharmaceutical company, engages in developing a pipeline of ophthalmology products in the United States. It is developing MicroProst, which is in Phase III clinical trials for the treatment of chronic angle closure glaucoma; MicroStat, which is in Phase III clinical trials for the treatment of mydriasis; MicroTears for the treatment of dry eye; and MicroPine for the treatment of myopia.
Further Reading: Beige Book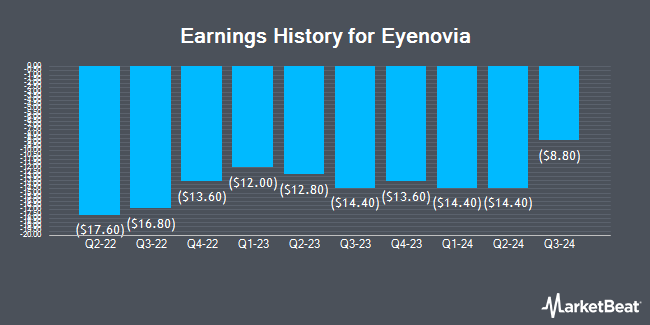 Receive News & Ratings for Eyenovia Daily - Enter your email address below to receive a concise daily summary of the latest news and analysts' ratings for Eyenovia and related companies with MarketBeat.com's FREE daily email newsletter.