Career Education (NASDAQ:CECO) is scheduled to be announcing its earnings results after the market closes on Wednesday, May 8th. Analysts expect the company to announce earnings of $0.33 per share for the quarter. Investors that are interested in participating in the company's conference call can do so using this link.
Career Education (NASDAQ:CECO) last released its earnings results on Wednesday, February 20th. The company reported $0.30 earnings per share for the quarter, beating the Thomson Reuters' consensus estimate of $0.25 by $0.05. The company had revenue of $145.50 million for the quarter, compared to the consensus estimate of $144.63 million. Career Education had a return on equity of 19.78% and a net margin of 9.49%. Career Education's quarterly revenue was up 1.7% compared to the same quarter last year. During the same period in the previous year, the business earned $0.19 earnings per share. On average, analysts expect Career Education to post $1 EPS for the current fiscal year and $1 EPS for the next fiscal year.
NASDAQ CECO opened at $18.29 on Tuesday. The firm has a market cap of $1.27 billion, a P/E ratio of 17.42, a P/E/G ratio of 1.27 and a beta of 1.68. Career Education has a fifty-two week low of $11.01 and a fifty-two week high of $19.07.
Several equities analysts recently weighed in on the company. BidaskClub downgraded Career Education from a "buy" rating to a "hold" rating in a research report on Thursday, April 4th. Zacks Investment Research upgraded Career Education from a "hold" rating to a "buy" rating and set a $15.00 target price on the stock in a research report on Wednesday, February 6th. Finally, Barrington Research reiterated a "buy" rating and set a $18.00 target price on shares of Career Education in a research report on Thursday, February 7th. One equities research analyst has rated the stock with a hold rating and four have given a buy rating to the company. Career Education has an average rating of "Buy" and an average target price of $19.83.
In related news, SVP John Robert Kline sold 4,700 shares of Career Education stock in a transaction on Thursday, February 21st. The stock was sold at an average price of $15.20, for a total transaction of $71,440.00. The transaction was disclosed in a filing with the SEC, which is available through the SEC website. 5.58% of the stock is currently owned by insiders.
WARNING: This story was first published by The Lincolnian Online and is the sole property of of The Lincolnian Online. If you are viewing this story on another website, it was copied illegally and reposted in violation of US & international trademark and copyright legislation. The original version of this story can be accessed at https://www.thelincolnianonline.com/2019/05/07/career-education-ceco-to-release-quarterly-earnings-on-wednesday.html.
Career Education Company Profile
Career Education Corporation operates colleges, institutions, and universities that provide education to student population in various career-oriented disciplines through online, campus based, and blended learning programs in the United States. The company operates through three segments: Colorado Technical University (CTU), American InterContinental University (AIU), and All Other Campuses.
Recommended Story: Real Estate Investment Trust (REIT) ETF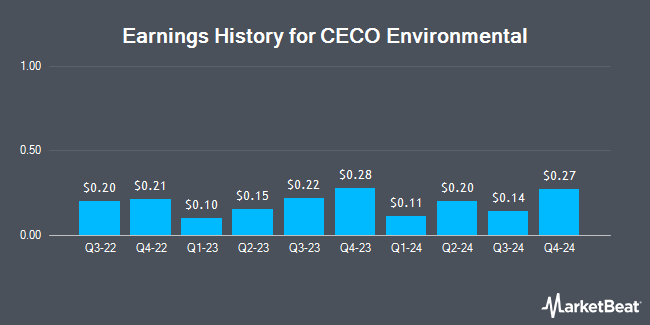 Receive News & Ratings for Career Education Daily - Enter your email address below to receive a concise daily summary of the latest news and analysts' ratings for Career Education and related companies with MarketBeat.com's FREE daily email newsletter.