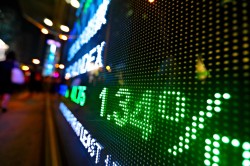 Brookfield Property Reit Inc (NASDAQ:BPR) declared a quarterly dividend on Monday, May 6th, Zacks reports. Stockholders of record on Friday, May 31st will be given a dividend of 0.33 per share on Friday, June 28th. This represents a $1.32 annualized dividend and a dividend yield of 6.38%. The ex-dividend date of this dividend is Thursday, May 30th.
NASDAQ:BPR opened at $20.70 on Tuesday. Brookfield Property Reit has a one year low of $14.93 and a one year high of $21.19. The company has a debt-to-equity ratio of 0.08, a quick ratio of 0.05 and a current ratio of 0.05.
TRADEMARK VIOLATION WARNING: "Brookfield Property Reit Inc (BPR) Plans Quarterly Dividend of $0.33" was first published by The Lincolnian Online and is the property of of The Lincolnian Online. If you are accessing this article on another site, it was copied illegally and republished in violation of U.S. and international trademark and copyright law. The correct version of this article can be viewed at https://www.thelincolnianonline.com/2019/05/07/brookfield-property-reit-inc-bpr-plans-quarterly-dividend-of-0-33.html.
Brookfield Property Reit Company Profile
Brookfield Property REIT Inc ("BPR") is a subsidiary of Brookfield Property Partners L.P., (NASDAQ: BPY; TSX: BPY.UN) ("BPY") one of the world's largest commercial real estate companies, with approximately $86 billion in total assets. BPR was created as a public security that is intended to offer economic equivalence to an investment in BPY in the form of a U.S.
Featured Article: How does new data get added to a blockchain?
Receive News & Ratings for Brookfield Property Reit Daily - Enter your email address below to receive a concise daily summary of the latest news and analysts' ratings for Brookfield Property Reit and related companies with MarketBeat.com's FREE daily email newsletter.