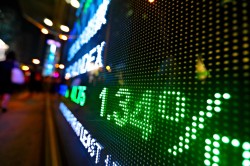 BlackRock Inc. purchased a new stake in LAIX Inc. (NASDAQ:LAIX) in the 4th quarter, according to the company in its most recent filing with the Securities & Exchange Commission. The institutional investor purchased 8,570 shares of the company's stock, valued at approximately $65,000.
Separately, Mondrian Capital Management LLC acquired a new position in shares of LAIX in the fourth quarter valued at approximately $758,000.
Separately, Zacks Investment Research cut shares of LAIX from a "hold" rating to a "sell" rating in a report on Friday, April 26th.
Shares of LAIX opened at $10.86 on Tuesday. LAIX Inc. has a 12 month low of $7.01 and a 12 month high of $16.50.
LAIX (NASDAQ:LAIX) last announced its earnings results on Wednesday, February 27th. The company reported ($0.50) EPS for the quarter. The company had revenue of $32.65 million for the quarter.
COPYRIGHT VIOLATION NOTICE: "BlackRock Inc. Purchases Shares of 8,570 LAIX Inc. (LAIX)" was first reported by The Lincolnian Online and is owned by of The Lincolnian Online. If you are accessing this story on another domain, it was illegally stolen and reposted in violation of US and international trademark and copyright laws. The legal version of this story can be read at https://www.thelincolnianonline.com/2019/05/07/blackrock-inc-purchases-shares-of-8570-laix-inc-laix.html.
LAIX Company Profile
LAIX Inc, an artificial intelligence company, provides online English learning services through Liulishuo mobile app in the People's Republic of China. It is also involved in the artificial intelligence lab operation; technology development; and loan arrangement activities. The company was formerly known as LingoChamp Inc LAIX Inc was founded in 2013 and is headquartered in Shanghai, the People's Republic of China.
See Also: Calculating net profit and net profit margin ratio
Want to see what other hedge funds are holding LAIX? Visit HoldingsChannel.com to get the latest 13F filings and insider trades for LAIX Inc. (NASDAQ:LAIX).
Receive News & Ratings for LAIX Daily - Enter your email address below to receive a concise daily summary of the latest news and analysts' ratings for LAIX and related companies with MarketBeat.com's FREE daily email newsletter.