ArcelorMittal (NYSE:MT) will be issuing its quarterly earnings data after the market closes on Thursday, May 9th. Analysts expect the company to announce earnings of $0.88 per share for the quarter.
ArcelorMittal (NYSE:MT) last announced its quarterly earnings results on Thursday, February 7th. The basic materials company reported $1.31 earnings per share (EPS) for the quarter, beating the Thomson Reuters' consensus estimate of $0.79 by $0.52. The business had revenue of $18.33 billion during the quarter, compared to analyst estimates of $18.47 billion. ArcelorMittal had a return on equity of 13.27% and a net margin of 6.77%. ArcelorMittal's quarterly revenue was up 3.5% on a year-over-year basis. On average, analysts expect ArcelorMittal to post $3 EPS for the current fiscal year and $3 EPS for the next fiscal year.
Shares of ArcelorMittal stock opened at $20.51 on Tuesday. The stock has a market cap of $20.58 billion, a PE ratio of 3.56, a PEG ratio of 3.68 and a beta of 2.06. The company has a debt-to-equity ratio of 0.21, a current ratio of 1.38 and a quick ratio of 0.50. ArcelorMittal has a 52-week low of $19.50 and a 52-week high of $36.51.
The business also recently disclosed an annual dividend, which will be paid on Thursday, June 13th. Investors of record on Friday, May 17th will be paid a $0.20 dividend. This represents a dividend yield of 0.92%. The ex-dividend date of this dividend is Thursday, May 16th. ArcelorMittal's payout ratio is 1.56%.
A number of research analysts recently weighed in on the company. Zacks Investment Research downgraded ArcelorMittal from a "hold" rating to a "sell" rating in a research note on Wednesday, April 10th. Goldman Sachs Group downgraded ArcelorMittal from a "buy" rating to a "neutral" rating in a research note on Wednesday, January 30th. KeyCorp assumed coverage on ArcelorMittal in a research note on Monday, April 15th. They issued a "sector weight" rating and a $22.57 price objective on the stock. Finally, ValuEngine downgraded ArcelorMittal from a "sell" rating to a "strong sell" rating in a research note on Monday, April 1st. Two research analysts have rated the stock with a sell rating, four have assigned a hold rating and five have given a buy rating to the stock. ArcelorMittal presently has an average rating of "Hold" and an average target price of $30.52.
A hedge fund recently raised its stake in ArcelorMittal stock. Geode Capital Management LLC boosted its holdings in ArcelorMittal SA (NYSE:MT) by 289.5% during the 4th quarter, according to the company in its most recent 13F filing with the Securities & Exchange Commission. The firm owned 27,293 shares of the basic materials company's stock after buying an additional 20,285 shares during the period. Geode Capital Management LLC's holdings in ArcelorMittal were worth $563,000 as of its most recent SEC filing. Institutional investors and hedge funds own 3.06% of the company's stock.
TRADEMARK VIOLATION NOTICE: "ArcelorMittal (MT) Set to Announce Quarterly Earnings on Thursday" was reported by The Lincolnian Online and is the sole property of of The Lincolnian Online. If you are reading this article on another site, it was illegally stolen and republished in violation of international copyright & trademark law. The correct version of this article can be accessed at https://www.thelincolnianonline.com/2019/05/07/arcelormittal-mt-set-to-announce-quarterly-earnings-on-thursday.html.
About ArcelorMittal
ArcelorMittal, together with its subsidiaries, owns and operates steel manufacturing and mining facilities in Europe, North and South America, Asia, and Africa. It operates through five segments: NAFTA, Brazil, Europe, ACIS, and Mining. The company produces finished and semi-finished steel products with various specifications.
See Also: Bollinger Bands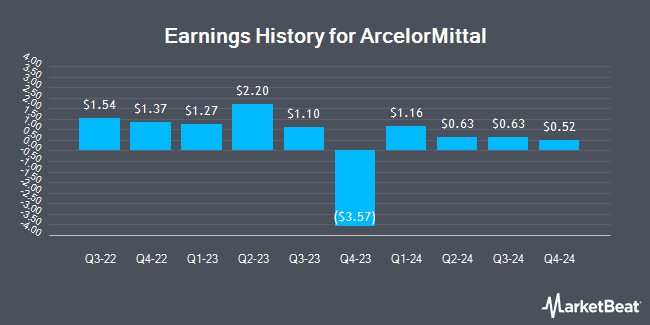 Receive News & Ratings for ArcelorMittal Daily - Enter your email address below to receive a concise daily summary of the latest news and analysts' ratings for ArcelorMittal and related companies with MarketBeat.com's FREE daily email newsletter.