Phibro Animal Health (NASDAQ:PAHC) issued an update on its FY19 earnings guidance on Monday morning. The company provided EPS guidance of $1.50-1.55 for the period, compared to the Thomson Reuters consensus EPS estimate of $1.68. The company issued revenue guidance of $828-833 million, compared to the consensus revenue estimate of $854.19 million.
Shares of Phibro Animal Health stock traded up $0.76 on Monday, hitting $36.85. The company's stock had a trading volume of 181,380 shares, compared to its average volume of 146,368. Phibro Animal Health has a 52-week low of $28.28 and a 52-week high of $54.62. The company has a quick ratio of 1.83, a current ratio of 3.25 and a debt-to-equity ratio of 1.52. The firm has a market capitalization of $1.46 billion, a PE ratio of 21.18, a P/E/G ratio of 4.16 and a beta of 0.63.
Phibro Animal Health (NASDAQ:PAHC) last released its quarterly earnings data on Wednesday, February 6th. The company reported $0.41 EPS for the quarter, missing the consensus estimate of $0.43 by ($0.02). Phibro Animal Health had a return on equity of 36.37% and a net margin of 8.69%. The business had revenue of $218.20 million during the quarter, compared to analysts' expectations of $211.59 million. During the same quarter in the prior year, the firm earned $0.44 earnings per share. Phibro Animal Health's quarterly revenue was up 6.0% on a year-over-year basis. On average, research analysts expect that Phibro Animal Health will post 1.68 EPS for the current fiscal year.
PAHC has been the topic of several recent research reports. BidaskClub lowered shares of Phibro Animal Health from a sell rating to a strong sell rating in a research report on Thursday, February 14th. ValuEngine lowered shares of Phibro Animal Health from a hold rating to a sell rating in a research report on Wednesday, February 13th. Finally, Zacks Investment Research upgraded shares of Phibro Animal Health from a sell rating to a hold rating in a research report on Wednesday, January 23rd. Two equities research analysts have rated the stock with a sell rating and four have given a hold rating to the stock. The stock currently has an average rating of Hold and a consensus price target of $43.50.
ILLEGAL ACTIVITY NOTICE: This report was first posted by The Lincolnian Online and is the property of of The Lincolnian Online. If you are accessing this report on another publication, it was stolen and reposted in violation of U.S. & international copyright laws. The correct version of this report can be read at https://www.thelincolnianonline.com/2019/05/06/phibro-animal-health-pahc-issues-fy19-earnings-guidance.html.
About Phibro Animal Health
Phibro Animal Health Corporation operates as a diversified animal health and mineral nutrition company primarily in the United States. It operates through three segments: Animal Health, Mineral Nutrition, and Performance Products. The company develops, manufactures, and markets products for a range of food animals, including poultry, swine, beef and dairy cattle, and aquaculture.
Recommended Story: What is the price-to-earnings growth (PEG) ratio?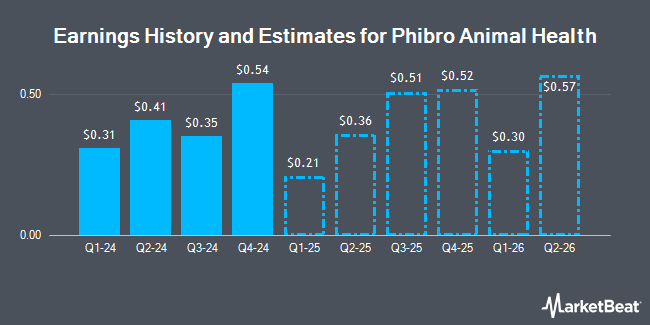 Receive News & Ratings for Phibro Animal Health Daily - Enter your email address below to receive a concise daily summary of the latest news and analysts' ratings for Phibro Animal Health and related companies with MarketBeat.com's FREE daily email newsletter.