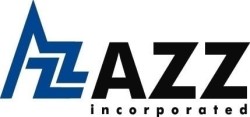 First Manhattan Co. lessened its holdings in shares of AZZ Inc (NYSE:AZZ) by 11.9% in the first quarter, HoldingsChannel reports. The fund owned 36,750 shares of the industrial products company's stock after selling 4,950 shares during the period. First Manhattan Co.'s holdings in AZZ were worth $1,504,000 at the end of the most recent quarter.
Several other institutional investors have also made changes to their positions in the stock. NumerixS Investment Technologies Inc bought a new position in AZZ in the fourth quarter worth $36,000. Covington Capital Management bought a new position in AZZ in the fourth quarter worth $59,000. Quantamental Technologies LLC bought a new position in AZZ in the fourth quarter worth $83,000. United Services Automobile Association bought a new position in AZZ in the third quarter worth $202,000. Finally, Mackay Shields LLC bought a new position in AZZ in the fourth quarter worth $202,000. Institutional investors own 89.35% of the company's stock.
Shares of NYSE:AZZ opened at $45.43 on Wednesday. AZZ Inc has a 1-year low of $37.43 and a 1-year high of $56.05. The company has a quick ratio of 1.97, a current ratio of 2.87 and a debt-to-equity ratio of 0.46. The firm has a market cap of $1.16 billion, a PE ratio of 33.65 and a beta of 1.36.
The business also recently declared a quarterly dividend, which will be paid on Wednesday, May 8th. Stockholders of record on Wednesday, April 24th will be issued a dividend of $0.17 per share. The ex-dividend date of this dividend is Tuesday, April 23rd. This represents a $0.68 annualized dividend and a dividend yield of 1.50%. AZZ's payout ratio is presently 50.37%.
A number of equities analysts have issued reports on the company. Zacks Investment Research upgraded AZZ from a "sell" rating to a "hold" rating in a report on Monday, March 18th. Stifel Nicolaus reiterated a "hold" rating and issued a $50.00 price objective on shares of AZZ in a report on Wednesday, December 19th. Three equities research analysts have rated the stock with a hold rating and one has assigned a buy rating to the company. AZZ presently has an average rating of "Hold" and a consensus target price of $55.33.
WARNING: "AZZ Inc (AZZ) Position Lowered by First Manhattan Co." was originally published by The Lincolnian Online and is the property of of The Lincolnian Online. If you are reading this story on another domain, it was copied illegally and republished in violation of US & international trademark & copyright laws. The legal version of this story can be read at https://www.thelincolnianonline.com/2019/04/17/azz-inc-azz-position-lowered-by-first-manhattan-co.html.
About AZZ
AZZ Inc provides galvanizing and metal coating services, welding solutions, specialty electrical equipment, and highly engineered services to the power generation, transmission, distribution, refining, and industrial markets. The company operates through two segments, Energy Segment and Metal Coatings.
Featured Story: What is required to own or exchange cryptocurrency?
Want to see what other hedge funds are holding AZZ? Visit HoldingsChannel.com to get the latest 13F filings and insider trades for AZZ Inc (NYSE:AZZ).
Receive News & Ratings for AZZ Daily - Enter your email address below to receive a concise daily summary of the latest news and analysts' ratings for AZZ and related companies with MarketBeat.com's FREE daily email newsletter.