CubeSmart (NYSE:CUBE) issued an update on its FY 2019 earnings guidance on Thursday morning. The company provided earnings per share guidance of $1.64-1.69 for the period. CubeSmart also updated its FY19 guidance to $1.64-1.69 EPS.
Shares of CUBE stock traded down $0.88 during trading on Thursday, reaching $29.60. 3,267,162 shares of the company's stock traded hands, compared to its average volume of 1,384,283. The stock has a market capitalization of $5.68 billion, a P/E ratio of 18.62, a PEG ratio of 3.11 and a beta of 0.31. The company has a current ratio of 0.04, a quick ratio of 0.04 and a debt-to-equity ratio of 0.97. CubeSmart has a 1 year low of $25.96 and a 1 year high of $33.18.
The firm also recently declared a quarterly dividend, which will be paid on Monday, April 15th. Investors of record on Monday, April 1st will be paid a dividend of $0.32 per share. This represents a $1.28 dividend on an annualized basis and a dividend yield of 4.32%. The ex-dividend date is Friday, March 29th. CubeSmart's payout ratio is currently 80.50%.
CUBE has been the topic of a number of recent research reports. Bank of America upgraded shares of CubeSmart from a neutral rating to a buy rating and set a $25.22 price target on the stock in a research note on Thursday, November 15th. BMO Capital Markets cut shares of CubeSmart from an outperform rating to a market perform rating in a research note on Wednesday, January 9th. Zacks Investment Research cut shares of CubeSmart from a buy rating to a hold rating in a research note on Thursday, December 13th. Finally, ValuEngine upgraded shares of CubeSmart from a hold rating to a buy rating in a research note on Tuesday, November 20th. Five research analysts have rated the stock with a hold rating and four have given a buy rating to the company. The stock has a consensus rating of Hold and an average price target of $31.90.
WARNING: This piece of content was first posted by The Lincolnian Online and is owned by of The Lincolnian Online. If you are reading this piece of content on another site, it was illegally stolen and reposted in violation of U.S. & international copyright & trademark legislation. The legal version of this piece of content can be viewed at https://www.thelincolnianonline.com/2019/02/22/cubesmart-cube-updates-fy-2019-earnings-guidance.html.
About CubeSmart
CubeSmart is a self-administered and self-managed real estate investment trust. The Company's self-storage properties are designed to offer affordable, easily accessible and secure storage space for residential and commercial customers. According to the 2018 Self-Storage Almanac, CubeSmart is one of the top three owners and operators of self-storage properties in the United States.
Recommended Story: Options Trading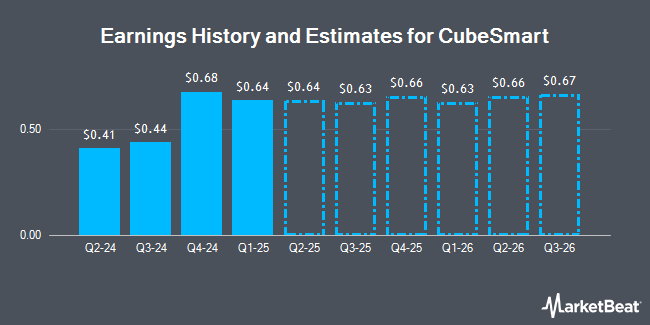 Receive News & Ratings for CubeSmart Daily - Enter your email address below to receive a concise daily summary of the latest news and analysts' ratings for CubeSmart and related companies with MarketBeat.com's FREE daily email newsletter.