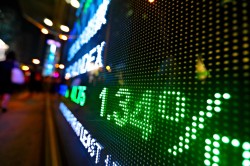 LAIX (NASDAQ:LAIX) will be announcing its earnings results before the market opens on Wednesday, February 27th. LAIX has set its Q4 2018 guidance at EPS.
LAIX (NASDAQ:LAIX) last announced its quarterly earnings results on Tuesday, November 27th. The company reported ($1.12) earnings per share (EPS) for the quarter, missing the Thomson Reuters' consensus estimate of ($0.29) by ($0.83). The company had revenue of $26.28 million during the quarter.
LAIX stock traded up $0.51 during trading on Wednesday, hitting $12.29. 3,920 shares of the company were exchanged, compared to its average volume of 19,803. LAIX has a 52 week low of $7.01 and a 52 week high of $16.50.
COPYRIGHT VIOLATION WARNING: This piece was reported by The Lincolnian Online and is the property of of The Lincolnian Online. If you are reading this piece on another domain, it was illegally copied and republished in violation of US and international copyright and trademark legislation. The correct version of this piece can be read at https://www.thelincolnianonline.com/2019/02/20/laix-laix-to-release-earnings-on-wednesday.html.
About LAIX
LAIX Inc, an artificial intelligence company, provides online English learning services through Liulishuo mobile app in the People's Republic of China. It is also involved in the artificial intelligence lab operation; technology development; and loan arrangement activities. The company was formerly known as LingoChamp Inc LAIX Inc was founded in 2013 and is headquartered in Shanghai, the People's Republic of China.
Read More: Short Selling
Receive News & Ratings for LAIX Daily - Enter your email address below to receive a concise daily summary of the latest news and analysts' ratings for LAIX and related companies with MarketBeat.com's FREE daily email newsletter.