Persimmon (LON:PSN) had its target price hoisted by Liberum Capital from GBX 2,700 ($35.28) to GBX 2,800 ($36.59) in a research note released on Monday morning. The brokerage currently has a buy rating on the stock.
Other research analysts have also recently issued research reports about the stock. Canaccord Genuity reaffirmed a buy rating and issued a GBX 2,870 ($37.50) price target on shares of Persimmon in a report on Wednesday, November 7th. Shore Capital reaffirmed a buy rating on shares of Persimmon in a report on Tuesday, January 15th. Bank of America raised shares of Persimmon to a buy rating and upped their price target for the stock from GBX 2,200 ($28.75) to GBX 2,400 ($31.36) in a report on Friday, January 11th. Peel Hunt reaffirmed a hold rating on shares of Persimmon in a report on Tuesday, January 15th. Finally, Berenberg Bank decreased their price target on shares of Persimmon from GBX 2,760 ($36.06) to GBX 2,670 ($34.89) and set a hold rating on the stock in a report on Monday, January 28th. One investment analyst has rated the stock with a sell rating, seven have given a hold rating and five have assigned a buy rating to the company's stock. The company presently has an average rating of Hold and an average target price of GBX 2,656.83 ($34.72).
Persimmon stock opened at GBX 2,445 ($31.95) on Monday. Persimmon has a fifty-two week low of GBX 2,046 ($26.73) and a fifty-two week high of GBX 2,901 ($37.91).
Persimmon Company Profile
Persimmon Plc, together with its subsidiaries, operates as a house builder in the United Kingdom. The company offers apartments and family homes under the Persimmon Homes brand name; builds executive housing under the Charles Church brand; and operates off-site manufacturing plant. It also provides homes to housing associations under the Westbury Partnerships brand.
See Also: Is it better to buy a fund with a higher or lower NAV?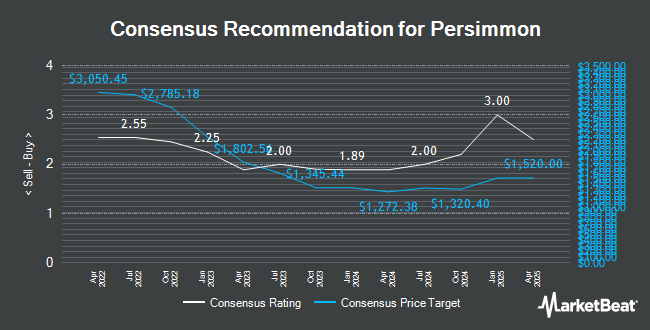 Receive News & Ratings for Persimmon Daily - Enter your email address below to receive a concise daily summary of the latest news and analysts' ratings for Persimmon and related companies with MarketBeat.com's FREE daily email newsletter.