Citigroup restated their neutral rating on shares of Centrica (LON:CNA) in a research note issued to investors on Friday morning. They currently have a GBX 144 ($1.88) target price on the integrated energy company's stock, down from their previous target price of GBX 160 ($2.09).
Other research analysts also recently issued research reports about the company. Berenberg Bank reissued a buy rating on shares of Centrica in a research note on Friday, October 26th. Goldman Sachs Group lowered their target price on Centrica from GBX 176 ($2.30) to GBX 174 ($2.27) and set a buy rating for the company in a research note on Monday, November 19th. Kepler Capital Markets reissued a buy rating on shares of Centrica in a research note on Wednesday, January 16th. Jefferies Financial Group downgraded Centrica to a hold rating and lowered their target price for the stock from GBX 170 ($2.22) to GBX 125 ($1.63) in a research note on Monday, January 7th. Finally, UBS Group downgraded Centrica to a neutral rating and lowered their price objective for the company from GBX 165 ($2.16) to GBX 135 ($1.76) in a research note on Wednesday, December 5th. Four analysts have rated the stock with a sell rating, four have given a hold rating and four have issued a buy rating to the company. The company currently has a consensus rating of Hold and a consensus price target of GBX 142.42 ($1.86).
Shares of LON CNA opened at GBX 137.95 ($1.80) on Friday. Centrica has a 12 month low of GBX 119.71 ($1.56) and a 12 month high of GBX 221 ($2.89).
In other news, insider Margherita D. Valle sold 1,492 shares of the company's stock in a transaction that occurred on Monday, November 26th. The stock was sold at an average price of GBX 133 ($1.74), for a total value of £1,984.36 ($2,592.92).
About Centrica
Centrica plc operates as an integrated energy company in the United Kingdom, the Republic of Ireland, Germany, Norway, rest of Europe, the United States, Canada, and internationally. The company operates through Centrica Consumer, Centrica Business, Exploration & Production, and Centrica Storage segments.
Recommended Story: Liquidity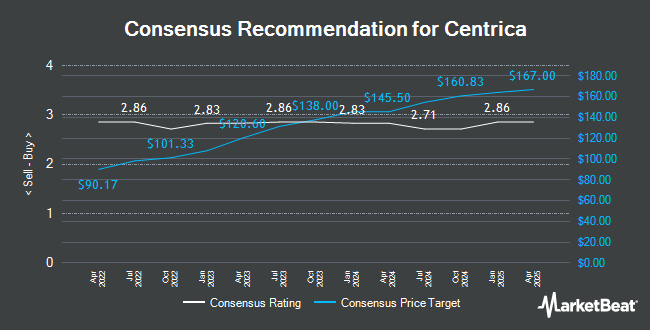 Receive News & Ratings for Centrica Daily - Enter your email address below to receive a concise daily summary of the latest news and analysts' ratings for Centrica and related companies with MarketBeat.com's FREE daily email newsletter.