UTStarcom (NASDAQ:UTSI) posted its quarterly earnings data on Friday. The Wireless communications provider reported $0.06 earnings per share for the quarter, hitting the Zacks' consensus estimate of $0.06, MarketWatch Earnings reports. UTStarcom had a net margin of 2.71% and a return on equity of 3.16%. The company had revenue of $52.09 million for the quarter, compared to analyst estimates of $40.50 million. During the same period in the prior year, the company posted ($0.04) EPS. UTStarcom updated its Q4 2018 guidance to EPS.
Shares of NASDAQ:UTSI traded down $0.03 during trading on Friday, reaching $3.60. 5,011 shares of the company were exchanged, compared to its average volume of 16,158. The firm has a market cap of $131.37 million, a PE ratio of 16.37 and a beta of 0.29. UTStarcom has a 12-month low of $3.16 and a 12-month high of $6.51.
A number of analysts recently weighed in on UTSI shares. ValuEngine raised shares of UTStarcom from a "hold" rating to a "buy" rating in a research report on Wednesday, July 18th. TheStreet raised shares of UTStarcom from a "d+" rating to a "c" rating in a research report on Wednesday, August 8th.
An institutional investor recently raised its position in UTStarcom stock. JPMorgan Chase & Co. lifted its stake in shares of UTStarcom Holdings Corp (NASDAQ:UTSI) by 254.9% during the first quarter, according to the company in its most recent Form 13F filing with the SEC. The firm owned 106,188 shares of the Wireless communications provider's stock after acquiring an additional 76,267 shares during the quarter. JPMorgan Chase & Co. owned approximately 0.30% of UTStarcom worth $522,000 at the end of the most recent reporting period. Institutional investors own 26.49% of the company's stock.
ILLEGAL ACTIVITY WARNING: "UTStarcom (UTSI) Issues Earnings Results, Hits Expectations" was originally published by The Lincolnian Online and is owned by of The Lincolnian Online. If you are viewing this piece of content on another site, it was illegally stolen and republished in violation of United States and international trademark & copyright legislation. The original version of this piece of content can be read at https://www.thelincolnianonline.com/2018/11/10/utstarcom-utsi-issues-earnings-results-hits-expectations.html.
UTStarcom Company Profile
UTStarcom Holdings Corp. operates as a telecom infrastructure provider to develop technology for bandwidth from cloud-based services, mobile, streaming, and other applications worldwide. The company helps network operators to offer communication services for its customers. Its products line include various platforms that leverage its expertise in packet optical communications, routing and switching technologies, broadband access, wireless communications, and synchronization.
Featured Article: Swap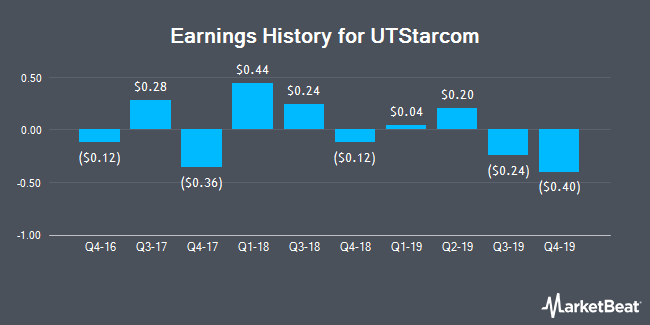 Receive News & Ratings for UTStarcom Daily - Enter your email address below to receive a concise daily summary of the latest news and analysts' ratings for UTStarcom and related companies with MarketBeat.com's FREE daily email newsletter.