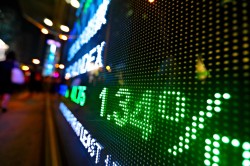 Renaissance Technologies LLC decreased its holdings in Daxor Co. (NYSEAMERICAN:DXR) by 31.6% during the 2nd quarter, according to the company in its most recent disclosure with the SEC. The fund owned 38,800 shares of the company's stock after selling 17,900 shares during the quarter. Renaissance Technologies LLC's holdings in Daxor were worth $258,000 as of its most recent SEC filing.
Daxor stock opened at $7.37 on Friday. Daxor Co. has a 52 week low of $3.40 and a 52 week high of $21.66.
ILLEGAL ACTIVITY NOTICE: "Renaissance Technologies LLC Sells 17,900 Shares of Daxor Co. (DXR)" was published by The Lincolnian Online and is the sole property of of The Lincolnian Online. If you are accessing this piece on another publication, it was stolen and republished in violation of international copyright and trademark legislation. The correct version of this piece can be accessed at https://www.thelincolnianonline.com/2018/11/10/renaissance-technologies-llc-sells-17900-shares-of-daxor-co-dxr.html.
Daxor Profile
Daxor Corporation, a medical device company, provides biotechnology and cryobanking services in the United States. The company offers BVA-100 Blood Volume Analyzer, an instrument that measures blood volume in human body. BVA-100 Blood Volume Analyzer is used to diagnose and treat patients in various medical and surgical conditions, including congestive heart failure, critical care medicine and intensive care unit medicine, hypertension, syncope, pre-operative blood screening for hidden anemia, anemia in cancer patients, kidney failure, and hyponatremia.
Further Reading: What is a stock split?

Want to see what other hedge funds are holding DXR? Visit HoldingsChannel.com to get the latest 13F filings and insider trades for Daxor Co. (NYSEAMERICAN:DXR).
Receive News & Ratings for Daxor Daily - Enter your email address below to receive a concise daily summary of the latest news and analysts' ratings for Daxor and related companies with MarketBeat.com's FREE daily email newsletter.