PPL (NYSE:PPL) issued an update on its FY18 earnings guidance on Friday morning. The company provided earnings per share guidance of $2.30 to $2.40 for the period, compared to the Thomson Reuters consensus earnings per share estimate of $2.36.
NYSE:PPL traded up $0.23 during trading on Friday, reaching $31.69. The company's stock had a trading volume of 4,855,321 shares, compared to its average volume of 5,029,537. The company has a market capitalization of $22.59 billion, a PE ratio of 12.90, a price-to-earnings-growth ratio of 2.66 and a beta of 0.40. The company has a debt-to-equity ratio of 1.69, a current ratio of 0.58 and a quick ratio of 0.51. PPL has a 12 month low of $25.30 and a 12 month high of $37.34.
PPL (NYSE:PPL) last announced its quarterly earnings data on Thursday, November 1st. The utilities provider reported $0.59 earnings per share (EPS) for the quarter, beating analysts' consensus estimates of $0.56 by $0.03. The firm had revenue of $1.87 billion during the quarter, compared to the consensus estimate of $1.98 billion. PPL had a return on equity of 15.23% and a net margin of 19.17%. The business's revenue for the quarter was up 1.5% on a year-over-year basis. During the same quarter in the prior year, the company earned $0.56 EPS. Sell-side analysts anticipate that PPL will post 2.35 earnings per share for the current year.
Several research firms have recently weighed in on PPL. Morgan Stanley increased their price target on PPL from $29.00 to $30.00 and gave the stock a hold rating in a research note on Tuesday, September 11th. Citigroup began coverage on PPL in a research note on Thursday, August 23rd. They set a neutral rating and a $30.00 price target for the company. TheStreet upgraded PPL from a c+ rating to a b- rating in a research note on Tuesday, August 28th. Wells Fargo & Co increased their price target on PPL from $32.00 to $33.00 and gave the stock a market perform rating in a research note on Monday, September 17th. Finally, Zacks Investment Research upgraded PPL from a hold rating to a buy rating and set a $34.00 price target for the company in a research note on Wednesday, September 12th. Two research analysts have rated the stock with a sell rating, six have issued a hold rating and five have assigned a buy rating to the stock. The company currently has a consensus rating of Hold and an average price target of $34.18.
ILLEGAL ACTIVITY NOTICE: "PPL (PPL) Updates FY18 Earnings Guidance" was first published by The Lincolnian Online and is owned by of The Lincolnian Online. If you are viewing this news story on another publication, it was illegally stolen and reposted in violation of United States and international copyright & trademark legislation. The original version of this news story can be viewed at https://www.thelincolnianonline.com/2018/11/10/ppl-ppl-updates-fy18-earnings-guidance-2.html.
About PPL
PPL Corporation, a utility holding company, delivers electricity and natural gas in the United States and the United Kingdom. The company operates in three segments: U.K. Regulated, Kentucky Regulated, and Pennsylvania Regulated. It serves 411,000 electric and 326,000 natural gas customers in Louisville and adjacent areas in Kentucky; 525,000 customers in central, southeastern, and western Kentucky; and approximately 28,000 customers in 5 counties in southwestern Virginia, and 3 customers in Tennessee.
Read More: Investing in Growth Stocks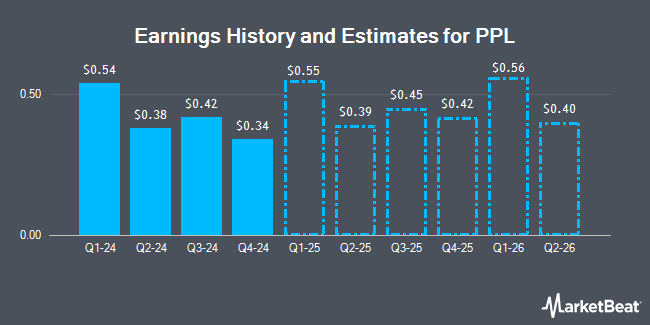 Receive News & Ratings for PPL Daily - Enter your email address below to receive a concise daily summary of the latest news and analysts' ratings for PPL and related companies with MarketBeat.com's FREE daily email newsletter.