Neenah Inc (NYSE:NP) announced a quarterly dividend on Thursday, November 1st, RTT News reports. Shareholders of record on Friday, November 16th will be paid a dividend of 0.41 per share by the basic materials company on Monday, December 3rd. This represents a $1.64 annualized dividend and a yield of 2.24%. The ex-dividend date is Thursday, November 15th.
Neenah has increased its dividend by an average of 13.2% annually over the last three years and has raised its dividend annually for the last 7 consecutive years. Neenah has a dividend payout ratio of 38.9% indicating that its dividend is sufficiently covered by earnings. Analysts expect Neenah to earn $4.96 per share next year, which means the company should continue to be able to cover its $1.64 annual dividend with an expected future payout ratio of 33.1%.
Shares of NP opened at $73.23 on Friday. The stock has a market cap of $1.28 billion, a price-to-earnings ratio of 16.95, a P/E/G ratio of 3.61 and a beta of 1.07. The company has a debt-to-equity ratio of 0.62, a quick ratio of 1.30 and a current ratio of 2.24. Neenah has a fifty-two week low of $71.77 and a fifty-two week high of $96.15.
Neenah (NYSE:NP) last announced its quarterly earnings results on Tuesday, November 6th. The basic materials company reported $0.76 earnings per share for the quarter, missing the consensus estimate of $1.06 by ($0.30). The company had revenue of $256.00 million for the quarter, compared to analyst estimates of $270.25 million. Neenah had a return on equity of 17.26% and a net margin of 4.08%. Neenah's revenue for the quarter was up 4.5% on a year-over-year basis. During the same period in the prior year, the business posted $1.02 earnings per share. On average, analysts expect that Neenah will post 4.22 EPS for the current year.
In other news, Director Sean T. Erwin sold 2,000 shares of the stock in a transaction dated Thursday, August 23rd. The shares were sold at an average price of $89.00, for a total transaction of $178,000.00. Following the sale, the director now directly owns 18,453 shares of the company's stock, valued at approximately $1,642,317. The transaction was disclosed in a filing with the SEC, which is available at this hyperlink. Also, SVP Armin Schwinn sold 1,556 shares of the stock in a transaction dated Tuesday, September 4th. The stock was sold at an average price of $90.23, for a total transaction of $140,397.88. Following the sale, the senior vice president now directly owns 2,240 shares in the company, valued at $202,115.20. The disclosure for this sale can be found here. Insiders have sold a total of 4,726 shares of company stock worth $423,147 over the last ninety days. 2.00% of the stock is owned by insiders.
Several equities research analysts have weighed in on NP shares. ValuEngine downgraded Neenah from a "buy" rating to a "hold" rating in a research report on Thursday, September 27th. Zacks Investment Research raised Neenah from a "sell" rating to a "hold" rating in a research report on Wednesday, October 10th. Finally, DA Davidson reaffirmed a "neutral" rating on shares of Neenah in a research report on Wednesday, August 8th.
ILLEGAL ACTIVITY WARNING: "Neenah Inc (NP) to Issue Quarterly Dividend of $0.41 on December 3rd" was originally posted by The Lincolnian Online and is owned by of The Lincolnian Online. If you are viewing this report on another publication, it was stolen and republished in violation of U.S. and international trademark & copyright laws. The correct version of this report can be read at https://www.thelincolnianonline.com/2018/11/10/neenah-inc-np-to-issue-quarterly-dividend-of-0-41-on-december-3rd.html.
Neenah Company Profile
Neenah, Inc produces and sells technical products, and fine paper and packaging products worldwide. The company's Technical Products segment offers filtration media for transportation, water, and other uses; saturated and unsaturated crepe, and flat paper tapes to manufacturers; and coated lightweight abrasive paper for automotive, construction, metal, and woodworking industries.
Further Reading: Dollar Cost Averaging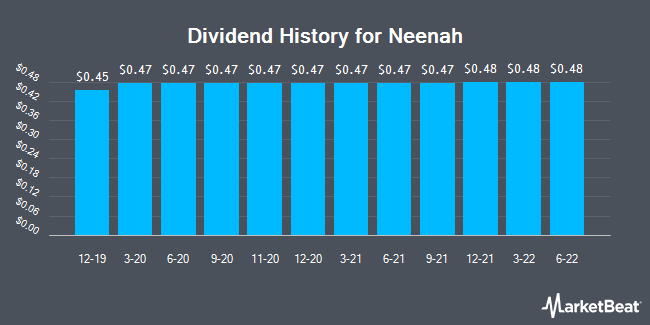 Receive News & Ratings for Neenah Daily - Enter your email address below to receive a concise daily summary of the latest news and analysts' ratings for Neenah and related companies with MarketBeat.com's FREE daily email newsletter.