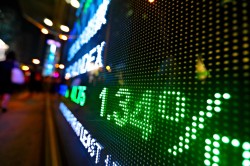 iFresh Inc (NASDAQ:IFMK)'s share price reached a new 52-week low during trading on Friday . The stock traded as low as $1.31 and last traded at $1.31, with a volume of 101269 shares. The stock had previously closed at $1.40.
The company has a debt-to-equity ratio of 0.16, a current ratio of 0.47 and a quick ratio of 0.18.
iFresh (NASDAQ:IFMK) last released its quarterly earnings results on Tuesday, August 14th. The company reported ($0.13) EPS for the quarter. The company had revenue of $31.09 million for the quarter. iFresh had a negative return on equity of 46.81% and a negative net margin of 1.85%. On average, research analysts anticipate that iFresh Inc will post 0.04 EPS for the current year.
COPYRIGHT VIOLATION NOTICE: "iFresh (IFMK) Reaches New 12-Month Low at $1.31" was reported by The Lincolnian Online and is the sole property of of The Lincolnian Online. If you are accessing this piece of content on another site, it was illegally stolen and reposted in violation of US & international trademark & copyright laws. The original version of this piece of content can be read at https://www.thelincolnianonline.com/2018/11/10/ifresh-ifmk-reaches-new-12-month-low-at-1-31.html.
iFresh Company Profile (NASDAQ:IFMK)
iFresh Inc operates a network of grocery supermarket chains in the north-eastern United States. The company's chains provide vegetables, seafood, meat, fruits, snacks, seasonings, and other products. It also distributes rice and rice products, and seasonings and spices, as well as assortment of noodles, frozen vegetables, frozen dumplings, and frozen seafood under the Family Elephant, Feiyan, Green Acre, Golden Smell, Redolent, Shuangdeng/Double Lantern, SeaStar, Huang Duan Xiang 1987, and I FRESH brands.
Further Reading: Swap
Receive News & Ratings for iFresh Daily - Enter your email address below to receive a concise daily summary of the latest news and analysts' ratings for iFresh and related companies with MarketBeat.com's FREE daily email newsletter.