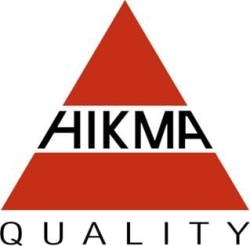 Barclays upgraded shares of Hikma Pharmaceuticals (LON:HIK) to an equal weight rating in a report released on Tuesday morning. The brokerage currently has GBX 1,800 ($23.52) price target on the stock, up from their prior price target of GBX 1,400 ($18.29).
Other analysts have also issued reports about the stock. Numis Securities lowered shares of Hikma Pharmaceuticals to a hold rating and set a GBX 1,560 ($20.38) price objective for the company. in a research note on Thursday, August 9th. Peel Hunt raised shares of Hikma Pharmaceuticals to an add rating and upped their price objective for the company from GBX 1,160 ($15.16) to GBX 1,950 ($25.48) in a research note on Thursday, August 16th. Finally, Citigroup increased their price target on shares of Hikma Pharmaceuticals from GBX 1,675 ($21.89) to GBX 2,100 ($27.44) and gave the stock a buy rating in a research report on Monday, August 20th. One investment analyst has rated the stock with a sell rating, six have given a hold rating and one has assigned a buy rating to the stock. The stock has an average rating of Hold and an average target price of GBX 1,459 ($19.06).
HIK stock traded down GBX 170.50 ($2.23) during mid-day trading on Tuesday, reaching GBX 1,854.50 ($24.23). 1,517,297 shares of the stock traded hands, compared to its average volume of 822,138. Hikma Pharmaceuticals has a 52-week low of GBX 814.20 ($10.64) and a 52-week high of GBX 2,346 ($30.65).
Hikma Pharmaceuticals Company Profile
Hikma Pharmaceuticals PLC develops, manufactures, and markets a range of generic, branded, and in-licensed pharmaceutical products in solid, semi-solid, liquid, and injectable final dosage forms. It operates through three segments: Injectables, Generics, and Branded. The Injectables segment manufactures, markets, and sells generic injectable products for therapeutic categories, including anti-infective, anaesthetic, central nervous system (CNS), oncology, and pain management, as well as controlled substances and cardiovascular products.
Further Reading: Institutional Investors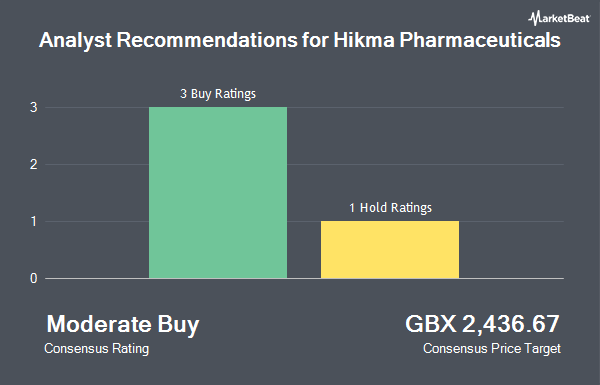 Receive News & Ratings for Hikma Pharmaceuticals Daily - Enter your email address below to receive a concise daily summary of the latest news and analysts' ratings for Hikma Pharmaceuticals and related companies with MarketBeat.com's FREE daily email newsletter.