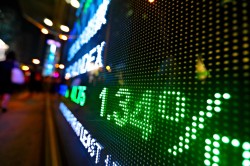 Needham & Company LLC assumed coverage on shares of Anaplan (NYSE:PLAN) in a research note released on Tuesday morning, MarketBeat.com reports. The firm issued a buy rating and a $30.00 price objective on the stock.
Separately, KeyCorp started coverage on Anaplan in a report on Tuesday. They set a sector weight rating for the company. Three equities research analysts have rated the stock with a hold rating and six have given a buy rating to the company. Anaplan has a consensus rating of Buy and a consensus price target of $27.33.
Shares of NYSE PLAN traded down $1.53 during mid-day trading on Tuesday, reaching $24.22. 354,048 shares of the company's stock were exchanged, compared to its average volume of 1,415,840. Anaplan has a 52-week low of $20.37 and a 52-week high of $27.30.
In other news, Director Robert E. Beauchamp bought 10,000 shares of the firm's stock in a transaction that occurred on Friday, October 12th. The shares were purchased at an average price of $24.21 per share, with a total value of $242,100.00. The transaction was disclosed in a filing with the SEC, which is available at this link. Also, insider David Ying Xian Chung bought 3,600 shares of the firm's stock in a transaction that occurred on Tuesday, October 16th. The shares were purchased at an average cost of $17.00 per share, for a total transaction of $61,200.00. The disclosure for this purchase can be found here. In the last three months, insiders have purchased 1,118,599 shares of company stock worth $19,088,283.
About Anaplan
Anaplan, Inc provides a cloud-based connected planning platform Its platform unites traditionally distinct or disconnected database structures, including relational, columnar, and online analytical processing with in-memory data storage and calculation that is used in various lines of business, such as finance, sales, supply chain, marketing, human resources, and operations.
Read More: What is Cost of Debt?
Receive News & Ratings for Anaplan Daily - Enter your email address below to receive a concise daily summary of the latest news and analysts' ratings for Anaplan and related companies with MarketBeat.com's FREE daily email newsletter.