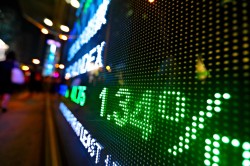 Newgioco Group Inc (OTCMKTS:NWGI) Director Harold Wolkin bought 200,000 shares of the stock in a transaction dated Thursday, September 6th. The stock was purchased at an average cost of $0.55 per share, for a total transaction of $110,000.00. The acquisition was disclosed in a legal filing with the SEC, which is available at this hyperlink.
Harold Wolkin also recently made the following trade(s):
On Thursday, September 27th, Harold Wolkin bought 105,000 shares of Newgioco Group stock. The stock was purchased at an average cost of $0.54 per share, for a total transaction of $56,700.00.
Shares of OTCMKTS:NWGI opened at $0.47 on Thursday. Newgioco Group Inc has a fifty-two week low of $0.09 and a fifty-two week high of $1.78.
WARNING: "Newgioco Group Inc (NWGI) Director Acquires $110,000.00 in Stock" was first published by The Lincolnian Online and is the property of of The Lincolnian Online. If you are accessing this report on another website, it was illegally copied and republished in violation of US & international copyright & trademark legislation. The correct version of this report can be accessed at https://www.thelincolnianonline.com/2018/11/08/newgioco-group-inc-nwgi-director-acquires-110000-00-in-stock.html.
Newgioco Group Company Profile
Newgioco Group, Inc, a licensed gaming technology company, through its subsidiaries, provides online and land-based gaming services in Italy and Europe. It owns and operates betting platform software that offers a range of online and offline leisure gaming services, including lottery, casino gaming, sports betting, traditional casino games, live casino, poker, bingo, virtual sports betting, and horse racing, as well as interactive games and slots.
Featured Article: Determine Your Level of Risk Tolerance
Receive News & Ratings for Newgioco Group Daily - Enter your email address below to receive a concise daily summary of the latest news and analysts' ratings for Newgioco Group and related companies with MarketBeat.com's FREE daily email newsletter.