CENTRICA PLC/S (OTCMKTS:CPYYY) was upgraded by stock analysts at ValuEngine from a "sell" rating to a "hold" rating in a research note issued on Thursday.
Separately, Zacks Investment Research raised CENTRICA PLC/S from a "sell" rating to a "hold" rating in a report on Wednesday. Two analysts have rated the stock with a sell rating, three have assigned a hold rating and three have assigned a buy rating to the company. The stock has an average rating of "Hold" and an average price target of $9.25.
Shares of CPYYY opened at $7.76 on Thursday. The company has a market capitalization of $11.34 billion, a PE ratio of 11.94 and a beta of 0.38. The company has a debt-to-equity ratio of 1.08, a quick ratio of 1.00 and a current ratio of 1.05. CENTRICA PLC/S has a one year low of $6.97 and a one year high of $9.39.
About CENTRICA PLC/S
Centrica plc operates as an integrated energy company in the United Kingdom, the Republic of Ireland, Germany, Norway, rest of Europe, the United States, Canada, and internationally. The company operates through Centrica Consumer, Centrica Business, Exploration & Production, and Centrica Storage segments.
Read More: Earnings Per Share
To view ValuEngine's full report, visit ValuEngine's official website.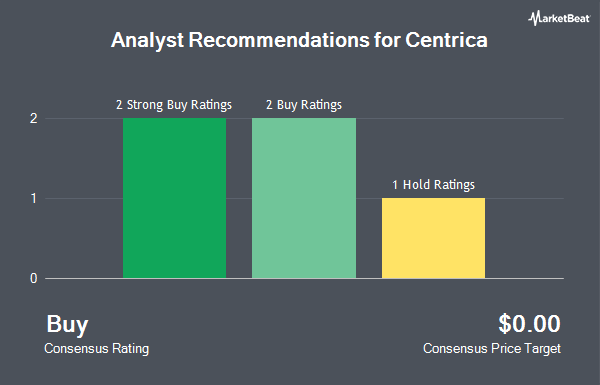 Receive News & Ratings for CENTRICA PLC/S Daily - Enter your email address below to receive a concise daily summary of the latest news and analysts' ratings for CENTRICA PLC/S and related companies with MarketBeat.com's FREE daily email newsletter.