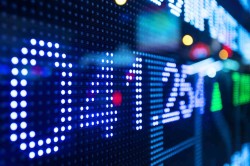 ALLIANZGI cnv &/COM (NYSE:CBH) announced a monthly dividend on Tuesday, October 2nd, Wall Street Journal reports. Stockholders of record on Thursday, October 11th will be paid a dividend of 0.046 per share on Thursday, November 1st. This represents a $0.55 annualized dividend and a dividend yield of 6.09%. The ex-dividend date of this dividend is Wednesday, October 10th.
Shares of NYSE:CBH opened at $9.06 on Tuesday. ALLIANZGI cnv &/COM has a one year low of $8.75 and a one year high of $10.05.
In other news, insider Allianz Asset Management Of Am sold 10,736 shares of ALLIANZGI cnv &/COM stock in a transaction that occurred on Wednesday, August 22nd. The shares were sold at an average price of $9.21, for a total transaction of $98,878.56. The sale was disclosed in a legal filing with the Securities & Exchange Commission, which is available at this link.
ALLIANZGI cnv &/COM Company Profile
There is no company description available for AllianzGI Convertible & Income 2024 Target Term Fund.
Featured Article: How are the companies in the S&P 500 selected?

Receive News & Ratings for ALLIANZGI cnv &/COM Daily - Enter your email address below to receive a concise daily summary of the latest news and analysts' ratings for ALLIANZGI cnv &/COM and related companies with MarketBeat.com's FREE daily email newsletter.