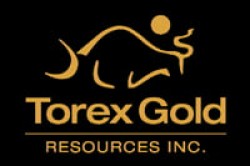 Torex Gold Resources (TSE:TXG) had its price target hoisted by Eight Capital from C$15.50 to C$16.00 in a research report sent to investors on Thursday.
A number of other equities research analysts have also issued reports on the stock. TD Securities lowered shares of Torex Gold Resources from a buy rating to a hold rating and cut their price objective for the company from C$17.00 to C$13.00 in a report on Tuesday, July 24th. Canaccord Genuity cut their price objective on shares of Torex Gold Resources from C$18.00 to C$15.00 in a report on Tuesday, July 24th. Three investment analysts have rated the stock with a hold rating and four have given a buy rating to the company. The company has an average rating of Buy and a consensus target price of C$15.93.
Torex Gold Resources stock opened at C$11.90 on Thursday. Torex Gold Resources has a 12-month low of C$7.29 and a 12-month high of C$20.93.
Torex Gold Resources (TSE:TXG) last announced its quarterly earnings data on Thursday, August 9th. The company reported C$0.17 earnings per share (EPS) for the quarter, missing analysts' consensus estimates of C$0.19 by C($0.02). Torex Gold Resources had a negative net margin of 61.27% and a negative return on equity of 14.51%. The company had revenue of C$131.39 million for the quarter.
In other Torex Gold Resources news, Director Franklin Lorie Davis sold 12,039 shares of the stock in a transaction that occurred on Wednesday, September 12th. The shares were sold at an average price of C$10.25, for a total transaction of C$123,399.75.
About Torex Gold Resources
Torex Gold Resources Inc engages in the exploration, development, and operation of mineral properties. The company explores for gold, silver, and copper deposits. It principally holds a 100% interest in the Morelos Gold property comprising the El Limón Guajes mine and the Media Luna project covering a total area of approximately 29,000 hectares located in the Guerrero Gold Belt in southern Mexico.
Read More: Outstanding Shares, Buying and Selling Stocks
Receive News & Ratings for Torex Gold Resources Daily - Enter your email address below to receive a concise daily summary of the latest news and analysts' ratings for Torex Gold Resources and related companies with MarketBeat.com's FREE daily email newsletter.