Shares of Suncor Energy Inc. (TSE:SU) (NYSE:SU) have earned a consensus rating of "Buy" from the seventeen analysts that are presently covering the stock, MarketBeat Ratings reports. Two equities research analysts have rated the stock with a hold rating and four have assigned a buy rating to the company. The average 1-year price target among brokers that have covered the stock in the last year is C$60.56.
Several research analysts have recently issued reports on SU shares. CIBC restated an "outperform" rating and issued a C$64.00 price target on shares of Suncor Energy in a research report on Friday. Canaccord Genuity raised their price target on Suncor Energy from C$64.00 to C$67.00 in a research report on Thursday, August 16th. CSFB raised their price target on Suncor Energy from C$56.00 to C$65.00 in a research report on Wednesday, July 11th. Mizuho set a C$61.00 price target on Suncor Energy and gave the stock a "buy" rating in a research report on Tuesday, July 24th. Finally, Raymond James raised their price target on Suncor Energy from C$69.00 to C$70.00 in a research report on Friday.
In related news, insider Janice Odegaard sold 60,000 shares of the firm's stock in a transaction on Wednesday, August 29th. The stock was sold at an average price of C$54.00, for a total transaction of C$3,240,000.00.
SU traded down C$1.00 during mid-day trading on Friday, reaching C$50.68. The stock had a trading volume of 2,757,500 shares, compared to its average volume of 2,981,453. Suncor Energy has a 52 week low of C$40.49 and a 52 week high of C$55.47.
Suncor Energy (TSE:SU) (NYSE:SU) last announced its quarterly earnings data on Wednesday, July 25th. The company reported C$0.73 EPS for the quarter, missing the Zacks' consensus estimate of C$0.75 by C($0.02). The firm had revenue of C$10.43 billion during the quarter, compared to the consensus estimate of C$8.53 billion. Suncor Energy had a net margin of 15.36% and a return on equity of 12.21%.
The firm also recently disclosed a quarterly dividend, which was paid on Tuesday, September 25th. Investors of record on Tuesday, September 4th were paid a dividend of $0.36 per share. This represents a $1.44 annualized dividend and a yield of 2.84%. The ex-dividend date of this dividend was Friday, August 31st.
Suncor Energy Company Profile
Suncor Energy Inc operates as an integrated energy company. The company primarily focuses on developing petroleum resource basins in Canada's Athabasca oil sands; explores, acquires, develops, produces, and markets crude oil and natural gas in Canada and internationally; transports and refines crude oil; markets petroleum and petrochemical products primarily in Canada.
Further Reading: How to Invest in an Index Fund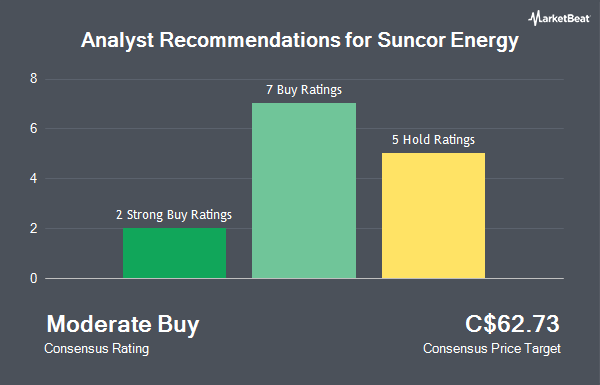 Receive News & Ratings for Suncor Energy Daily - Enter your email address below to receive a concise daily summary of the latest news and analysts' ratings for Suncor Energy and related companies with MarketBeat.com's FREE daily email newsletter.