Gladstone Land Corp (NASDAQ:LAND) declared a monthly dividend on Wednesday, July 11th, Wall Street Journal reports. Investors of record on Friday, July 20th will be given a dividend of 0.0444 per share by the real estate investment trust on Tuesday, July 31st. This represents a $0.53 dividend on an annualized basis and a yield of 4.38%. The ex-dividend date of this dividend is Thursday, July 19th. This is a boost from Gladstone Land's previous monthly dividend of $0.04.
Gladstone Land traded down $0.23, reaching $12.16, during midday trading on Wednesday, MarketBeat reports. The company had a trading volume of 130,784 shares, compared to its average volume of 93,508. The firm has a market cap of $191.65 million, a PE ratio of 21.71 and a beta of 0.94. Gladstone Land has a 12-month low of $11.45 and a 12-month high of $14.29. The company has a current ratio of 0.31, a quick ratio of 0.31 and a debt-to-equity ratio of 2.22.
Gladstone Land (NASDAQ:LAND) last released its earnings results on Tuesday, May 8th. The real estate investment trust reported ($0.02) earnings per share (EPS) for the quarter, missing the Zacks' consensus estimate of ($0.01) by ($0.01). The company had revenue of $9.25 million during the quarter. Gladstone Land had a negative net margin of 1.84% and a negative return on equity of 0.44%. equities analysts forecast that Gladstone Land will post 0.56 EPS for the current year.
A number of research firms recently issued reports on LAND. Zacks Investment Research lowered Gladstone Land from a "buy" rating to a "hold" rating in a report on Tuesday, July 3rd. Maxim Group reiterated a "buy" rating and issued a $15.00 target price on shares of Gladstone Land in a report on Wednesday, May 9th. Finally, ValuEngine lowered Gladstone Land from a "buy" rating to a "hold" rating in a report on Wednesday, May 2nd. Three investment analysts have rated the stock with a hold rating and two have issued a buy rating to the company. Gladstone Land currently has a consensus rating of "Hold" and an average target price of $14.67.
Gladstone Land Company Profile
Gladstone Land is a publicly-traded real estate investment trust that invests in farmland and farm-related properties located in major agricultural markets in the U.S., which it leases to farmers, and pays monthly distributions to its stockholders. The Company reports the current fair value of its farmland on a quarterly basis; as of December 31, 2017, the estimated net asset value of the Company was $13.96 per share.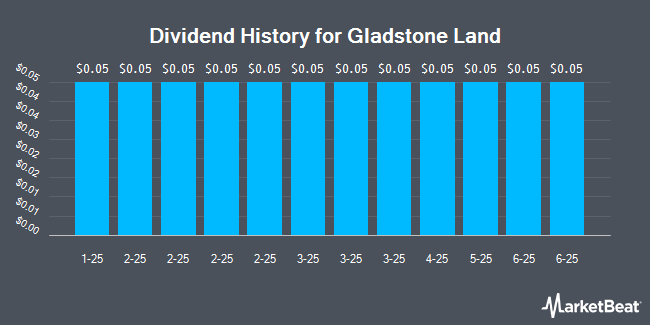 Receive News & Ratings for Gladstone Land Daily - Enter your email address below to receive a concise daily summary of the latest news and analysts' ratings for Gladstone Land and related companies with MarketBeat.com's FREE daily email newsletter.