NetEase (NASDAQ:NTES) declared a quarterly dividend on Wednesday, May 16th, Zacks reports. Investors of record on Friday, June 1st will be given a dividend of 0.23 per share by the technology company on Friday, June 8th. This represents a $0.92 annualized dividend and a yield of 0.40%. The ex-dividend date of this dividend is Thursday, May 31st.
Shares of NetEase traded up $5.53, reaching $228.56, during midday trading on Friday, according to Marketbeat Ratings. The stock had a trading volume of 1,614,607 shares, compared to its average volume of 1,257,655. NetEase has a 12-month low of $222.32 and a 12-month high of $377.64. The stock has a market capitalization of $29.29 billion, a P/E ratio of 18.42, a PEG ratio of 1.68 and a beta of 0.89.
A number of research firms have recently issued reports on NTES. BidaskClub upgraded NetEase from a "sell" rating to a "hold" rating in a report on Saturday, March 17th. TheStreet cut NetEase from a "b" rating to a "c+" rating in a report on Friday, May 18th. ValuEngine cut NetEase from a "hold" rating to a "sell" rating in a report on Thursday, March 29th. Daiwa Capital Markets upgraded NetEase from a "neutral" rating to a "buy" rating in a report on Thursday, May 17th. Finally, Benchmark upped their price objective on NetEase to $355.00 and gave the stock a "buy" rating in a report on Tuesday, February 6th. Six research analysts have rated the stock with a sell rating, three have assigned a hold rating, nine have given a buy rating and one has issued a strong buy rating to the company. The company has a consensus rating of "Hold" and a consensus target price of $329.40.
NetEase Company Profile
NetEase, Inc operates an interactive online community in the People's Republic of China. The company operates through Online Game Services; Advertising Services; and E-mail, E-commerce and Others segments. It offers PC-client massively multi-player online role-playing games and mobile games; and distributes its point cards to gamers.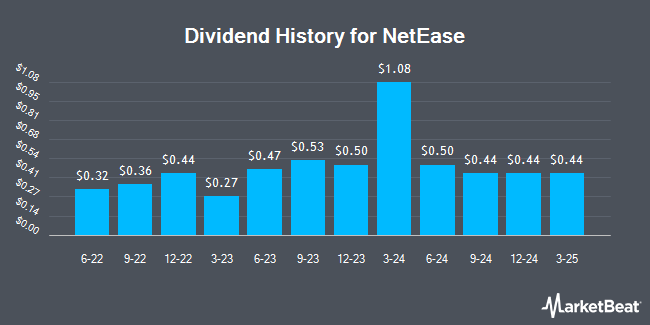 Receive News & Ratings for NetEase Daily - Enter your email address below to receive a concise daily summary of the latest news and analysts' ratings for NetEase and related companies with MarketBeat.com's FREE daily email newsletter.