Natuzzi (NYSE:NTZ) is scheduled to post its quarterly earnings results on Tuesday, May 29th.
Natuzzi (NYSE:NTZ) last announced its earnings results on Friday, April 6th. The company reported ($0.13) earnings per share for the quarter. Natuzzi had a negative return on equity of 16.38% and a negative net margin of 7.05%. The business had revenue of $141.44 million during the quarter.
Shares of NYSE NTZ opened at $1.62 on Tuesday. Natuzzi has a twelve month low of $1.41 and a twelve month high of $3.00. The company has a debt-to-equity ratio of 0.19, a current ratio of 1.37 and a quick ratio of 0.83.
Natuzzi Company Profile
Natuzzi S.p.A. designs, manufactures, and markets leather and fabric upholstered furniture worldwide. Its products primarily include stationary furniture, such as sofas, loveseats, and armchairs; sectional furniture; motion furniture; sofa beds; occasional chairs, including recliners and massage chairs; and furnishings and accessories for the living room and beds, bed linens, and bedroom furnishings.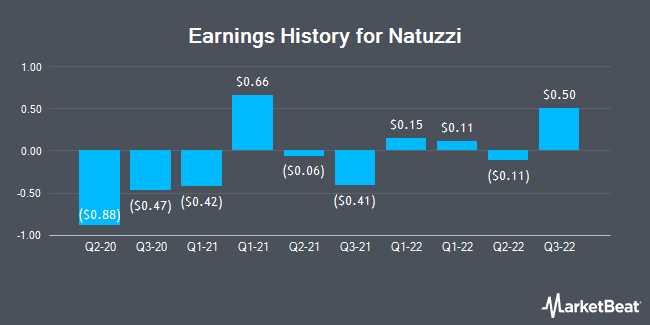 Receive News & Ratings for Natuzzi Daily - Enter your email address below to receive a concise daily summary of the latest news and analysts' ratings for Natuzzi and related companies with MarketBeat.com's FREE daily email newsletter.