Suez Environnement (OTCMKTS:SZEVY) has received an average rating of "Hold" from the eight brokerages that are covering the firm, Marketbeat reports. One equities research analyst has rated the stock with a sell recommendation, three have issued a hold recommendation and four have issued a buy recommendation on the company. The average 1 year price target among brokers that have covered the stock in the last year is $11.00.
A number of research firms have recently commented on SZEVY. ValuEngine raised Suez Environnement from a "hold" rating to a "buy" rating in a report on Thursday, January 25th. JPMorgan Chase raised Suez Environnement from a "neutral" rating to a "buy" rating in a report on Monday, February 26th. Finally, Citigroup lowered Suez Environnement from a "buy" rating to a "neutral" rating in a report on Tuesday, February 20th.
Shares of Suez Environnement stock traded down $0.02 during trading hours on Monday, reaching $7.32. The company had a trading volume of 5,646 shares, compared to its average volume of 52,363. Suez Environnement has a one year low of $6.52 and a one year high of $9.74. The company has a debt-to-equity ratio of 1.08, a current ratio of 0.97 and a quick ratio of 0.93. The firm has a market capitalization of $9,004.48, a P/E ratio of 18.35 and a beta of 0.44.
COPYRIGHT VIOLATION NOTICE: "Analysts Set Suez Environnement (SZEVY) PT at $11.00" was first reported by The Lincolnian Online and is the sole property of of The Lincolnian Online. If you are reading this story on another publication, it was copied illegally and reposted in violation of U.S. and international trademark and copyright law. The original version of this story can be read at https://www.thelincolnianonline.com/2018/04/16/analysts-set-suez-environnement-szevy-pt-at-11-00.html.
About Suez Environnement
SUEZ SA, together with its subsidiaries, engages in the water and waste cycle management business. The company operates through five segments: Water Europe, Recycling and Recovery Europe, International, Water Technologies & Solutions, and Other. It provides water distribution and treatment services to individuals, local authorities, and industrial clients; waste collection and treatment services, including collection, sorting, recycling, composting, energy recovery, and landfilling for non-hazardous and hazardous waste for local authorities and industrial clients.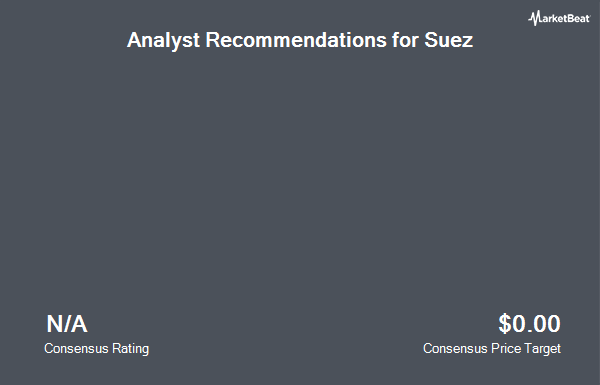 Receive News & Ratings for Suez Environnement Daily - Enter your email address below to receive a concise daily summary of the latest news and analysts' ratings for Suez Environnement and related companies with MarketBeat.com's FREE daily email newsletter.