Norbord Inc (TSE:OSB) insider Nigel Banks sold 19,000 shares of the company's stock in a transaction on Thursday, March 15th. The shares were sold at an average price of C$47.00, for a total transaction of C$893,000.00.
Shares of Norbord Inc (OSB) opened at C$47.40 on Friday. Norbord Inc has a 12 month low of C$36.10 and a 12 month high of C$51.75. The firm has a market cap of $4,110.00, a PE ratio of 7.27 and a beta of 2.04.
Norbord (TSE:OSB) last announced its earnings results on Friday, February 2nd. The company reported C$1.79 earnings per share for the quarter, topping the consensus estimate of C$1.73 by C$0.06. Norbord had a net margin of 26.85% and a return on equity of 66.95%. The business had revenue of C$756.97 million during the quarter.
The firm also recently announced a quarterly dividend, which will be paid on Wednesday, March 21st. Stockholders of record on Thursday, March 1st will be paid a dividend of $0.60 per share. The ex-dividend date is Wednesday, February 28th. This represents a $2.40 annualized dividend and a dividend yield of 5.06%. Norbord's dividend payout ratio (DPR) is 17.80%.
OSB has been the subject of several research analyst reports. CIBC decreased their price objective on shares of Norbord from C$50.00 to C$42.00 in a research note on Friday, January 12th. BMO Capital Markets set a C$32.00 price objective on shares of Norbord and gave the company an "underperform" rating in a research note on Friday, February 9th. One analyst has rated the stock with a sell rating, two have issued a hold rating, three have issued a buy rating and two have issued a strong buy rating to the company's stock. The company currently has a consensus rating of "Buy" and a consensus target price of C$49.38.
TRADEMARK VIOLATION WARNING: This report was originally reported by The Lincolnian Online and is owned by of The Lincolnian Online. If you are accessing this report on another website, it was copied illegally and republished in violation of United States & international trademark & copyright legislation. The original version of this report can be viewed at https://www.thelincolnianonline.com/2018/03/18/nigel-banks-sells-19000-shares-of-norbord-inc-osb-stock.html.
About Norbord
Norbord Inc is a Canada-based producer of wood-based panels. The Company is engaged in manufacturing, sales, marketing and distribution of panelboards and related products used in the construction of new homes or the renovation and repair of existing structures. Its geographic segments include North America and Europe.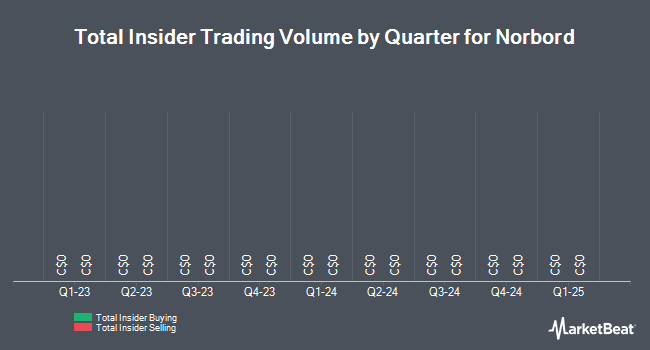 Receive News & Ratings for Norbord Daily - Enter your email address below to receive a concise daily summary of the latest news and analysts' ratings for Norbord and related companies with MarketBeat.com's FREE daily email newsletter.