Atento (NYSE:ATTO) is scheduled to be issuing its quarterly earnings data after the market closes on Monday, March 19th. Analysts expect the company to announce earnings of $0.23 per share for the quarter.
Shares of Atento (NYSE:ATTO) opened at $9.50 on Friday. The company has a market cap of $705.83, a PE ratio of 67.86, a price-to-earnings-growth ratio of 0.75 and a beta of -0.09. Atento has a fifty-two week low of $7.80 and a fifty-two week high of $12.90. The company has a current ratio of 1.58, a quick ratio of 1.58 and a debt-to-equity ratio of 1.09.
ATTO has been the topic of several recent research reports. Zacks Investment Research downgraded shares of Atento from a "hold" rating to a "sell" rating in a report on Tuesday. ValuEngine raised shares of Atento from a "hold" rating to a "buy" rating in a report on Wednesday, December 6th. Finally, Barrington Research set a $16.00 price objective on shares of Atento and gave the company a "buy" rating in a report on Wednesday, December 20th. Two analysts have rated the stock with a sell rating, one has given a hold rating and three have given a buy rating to the company. The company presently has a consensus rating of "Hold" and an average price target of $14.50.
ILLEGAL ACTIVITY NOTICE: This news story was originally posted by The Lincolnian Online and is the property of of The Lincolnian Online. If you are viewing this news story on another publication, it was stolen and republished in violation of United States and international copyright laws. The correct version of this news story can be viewed at https://www.thelincolnianonline.com/2018/03/17/atento-atto-set-to-announce-quarterly-earnings-on-monday.html.
Atento Company Profile
Atento SA is a provider of customer-relationship management and business-process outsourcing (CRM BPO) services and solutions in Latin America. The Company offers a portfolio of CRM BPO services, including customer care, sales, collections, back office and technical support. The Company operates through three segments: EMEA, Americas and Brazil.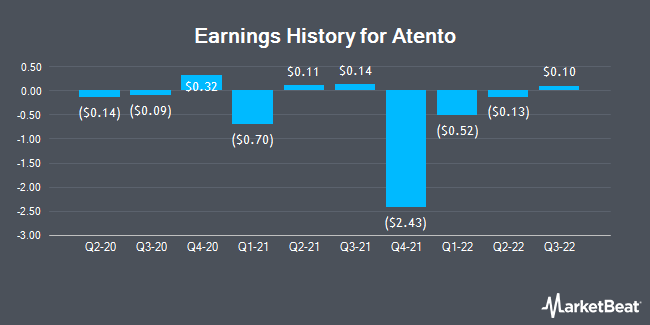 Receive News & Ratings for Atento Daily - Enter your email address below to receive a concise daily summary of the latest news and analysts' ratings for Atento and related companies with MarketBeat.com's FREE daily email newsletter.