Mackenzie Financial Corp purchased a new position in Medpace Holdings Inc (NASDAQ:MEDP) in the fourth quarter, according to its most recent disclosure with the Securities and Exchange Commission (SEC). The firm purchased 122,461 shares of the company's stock, valued at approximately $4,440,000. Mackenzie Financial Corp owned 0.33% of Medpace at the end of the most recent reporting period.
Several other institutional investors also recently bought and sold shares of the company. Quadrature Capital Ltd bought a new position in shares of Medpace in the fourth quarter worth $443,000. Monashee Investment Management LLC bought a new position in shares of Medpace in the fourth quarter worth $7,252,000. Arrowstreet Capital Limited Partnership bought a new position in shares of Medpace in the fourth quarter worth $500,000. Virtu Financial LLC bought a new stake in Medpace during the fourth quarter valued at $380,000. Finally, BlackRock Inc. boosted its stake in Medpace by 136.0% during the fourth quarter. BlackRock Inc. now owns 1,124,978 shares of the company's stock valued at $40,793,000 after buying an additional 648,204 shares during the period. 23.60% of the stock is owned by hedge funds and other institutional investors.
Medpace Holdings Inc (MEDP) traded down $0.36 during midday trading on Thursday, reaching $35.59. The company's stock had a trading volume of 124,584 shares, compared to its average volume of 227,190. Medpace Holdings Inc has a twelve month low of $21.76 and a twelve month high of $39.64. The company has a quick ratio of 0.67, a current ratio of 0.67 and a debt-to-equity ratio of 0.46. The stock has a market capitalization of $1,262.55, a P/E ratio of 36.32, a price-to-earnings-growth ratio of 1.46 and a beta of 0.50.
Medpace (NASDAQ:MEDP) last released its quarterly earnings results on Monday, February 26th. The company reported $0.39 earnings per share for the quarter, beating the Zacks' consensus estimate of $0.38 by $0.01. Medpace had a return on equity of 10.55% and a net margin of 8.97%. The business had revenue of $99.45 million for the quarter, compared to the consensus estimate of $97.25 million. During the same quarter last year, the business posted $0.35 earnings per share. The company's revenue for the quarter was up 4.3% on a year-over-year basis. analysts expect that Medpace Holdings Inc will post 1.88 earnings per share for the current year.
Several equities research analysts recently issued reports on the company. Zacks Investment Research lowered Medpace from a "buy" rating to a "hold" rating in a research note on Wednesday. Credit Suisse Group reissued an "outperform" rating and set a $42.00 price objective (up previously from $41.00) on shares of Medpace in a research note on Tuesday, February 27th. BidaskClub raised Medpace from a "hold" rating to a "buy" rating in a research note on Thursday, December 14th. Jefferies Group reissued a "hold" rating and set a $35.00 price objective on shares of Medpace in a research note on Thursday, March 1st. Finally, Wells Fargo & Co dropped their price objective on Medpace from $38.00 to $35.00 and set a "market perform" rating for the company in a research note on Wednesday, February 28th. Eight research analysts have rated the stock with a hold rating, one has given a buy rating and one has given a strong buy rating to the company's stock. Medpace currently has a consensus rating of "Hold" and a consensus price target of $36.83.
TRADEMARK VIOLATION WARNING: "Mackenzie Financial Corp Takes Position in Medpace Holdings Inc (NASDAQ:MEDP)" was posted by The Lincolnian Online and is owned by of The Lincolnian Online. If you are viewing this news story on another domain, it was stolen and republished in violation of US and international copyright laws. The correct version of this news story can be accessed at https://www.thelincolnianonline.com/2018/03/15/mackenzie-financial-corp-purchases-shares-of-122461-medpace-holdings-inc-medp.html.
Medpace Profile
Medpace Holdings, Inc is a clinical contract research organization. The Company provides clinical research-based drug and medical device development services. The Company partners with pharmaceutical, biotechnology, and medical device companies in the development and execution of clinical trials. The Company's drug development services focus on full service Phase I-IV clinical development services and include development plan design, coordinated central laboratory, project management, regulatory affairs, clinical monitoring, data management and analysis, pharmacovigilance new drug application submissions, and post-marketing clinical support.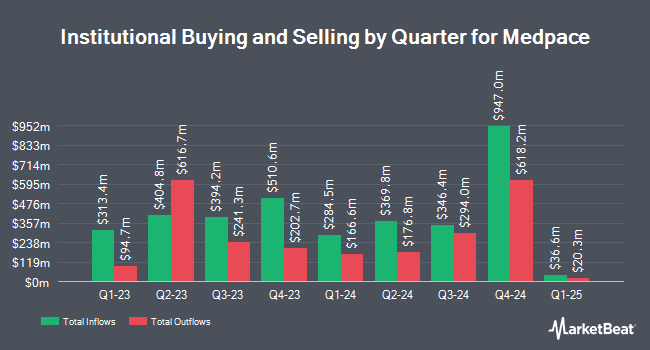 Receive News & Ratings for Medpace Daily - Enter your email address below to receive a concise daily summary of the latest news and analysts' ratings for Medpace and related companies with MarketBeat.com's FREE daily email newsletter.