Pearson (LON:PSON) had its price target raised by Barclays from GBX 720 ($9.95) to GBX 745 ($10.29) in a research report sent to investors on Monday, February 26th. Barclays currently has an equal weight rating on the stock.
A number of other research analysts have also recently issued reports on PSON. Liberum Capital reiterated a sell rating and set a GBX 380 ($5.25) price objective on shares of Pearson in a report on Monday, February 12th. Shore Capital restated a hold rating on shares of Pearson in a report on Wednesday, January 17th. Numis Securities reiterated a sell rating and issued a GBX 507 ($7.00) target price on shares of Pearson in a research note on Wednesday, January 17th. JPMorgan Chase & Co. boosted their price target on shares of Pearson from GBX 740 ($10.22) to GBX 763 ($10.54) and gave the company a neutral rating in a research report on Wednesday, January 10th. Finally, Deutsche Bank boosted their price target on shares of Pearson from GBX 500 ($6.91) to GBX 525 ($7.25) and gave the company a sell rating in a research report on Tuesday, January 23rd. Six analysts have rated the stock with a sell rating, eight have assigned a hold rating and three have assigned a buy rating to the company. The company presently has a consensus rating of Hold and a consensus target price of GBX 680 ($9.39).
Pearson (LON:PSON) traded up GBX 4.60 ($0.06) during midday trading on Monday, hitting GBX 766 ($10.58). 2,311,783 shares of the company traded hands, compared to its average volume of 4,500,000. Pearson has a twelve month low of GBX 563 ($7.78) and a twelve month high of GBX 773 ($10.68). The firm has a market cap of $5,980.00 and a price-to-earnings ratio of 1,532.00.
Pearson (LON:PSON) last issued its quarterly earnings results on Friday, February 23rd. The company reported GBX 54.10 ($0.75) EPS for the quarter, topping analysts' consensus estimates of GBX 52.40 ($0.72) by GBX 1.70 ($0.02). Pearson had a negative net margin of 0.78% and a negative return on equity of 0.82%. The company had revenue of GBX 451.30 billion for the quarter.
The business also recently declared a dividend, which will be paid on Friday, May 11th. Stockholders of record on Thursday, April 5th will be issued a dividend of GBX 12 ($0.17) per share. This represents a dividend yield of 1.71%. The ex-dividend date of this dividend is Thursday, April 5th. This is an increase from Pearson's previous dividend of $5.00.
In related news, insider Tim Score purchased 2,141 shares of the company's stock in a transaction dated Friday, December 15th. The shares were purchased at an average price of GBX 736 ($10.17) per share, with a total value of £15,757.76 ($21,770.88).
COPYRIGHT VIOLATION NOTICE: "Pearson (PSON) Price Target Raised to GBX 745" was posted by The Lincolnian Online and is owned by of The Lincolnian Online. If you are viewing this article on another site, it was copied illegally and republished in violation of US & international trademark and copyright law. The correct version of this article can be viewed at https://www.thelincolnianonline.com/2018/03/14/pearson-pson-given-new-gbx-745-price-target-at-barclays.html.
Pearson Company Profile
Pearson plc (Pearson) is a learning company. The Company delivers learning through providing a range of educational products and services to institutions, governments, professional bodies and individual learners. The Company operates through three segments, which include North America, Core and Growth.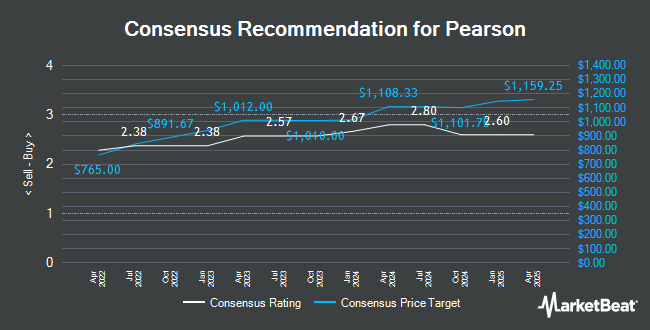 Receive News & Ratings for Pearson Daily - Enter your email address below to receive a concise daily summary of the latest news and analysts' ratings for Pearson and related companies with MarketBeat.com's FREE daily email newsletter.