Harris Co. (NYSE:HRS) SVP Scott T. Mikuen sold 20,000 shares of Harris stock in a transaction on Friday, March 2nd. The stock was sold at an average price of $151.18, for a total value of $3,023,600.00. The sale was disclosed in a document filed with the SEC, which can be accessed through this hyperlink.
Shares of Harris Co. (NYSE HRS) traded down $0.52 during midday trading on Wednesday, hitting $157.58. The stock had a trading volume of 637,056 shares, compared to its average volume of 850,036. The stock has a market capitalization of $18,710.00, a P/E ratio of 29.18, a price-to-earnings-growth ratio of 4.07 and a beta of 1.27. Harris Co. has a 52 week low of $106.18 and a 52 week high of $161.04. The company has a debt-to-equity ratio of 1.13, a current ratio of 1.22 and a quick ratio of 0.68.
Harris (NYSE:HRS) last issued its quarterly earnings results on Tuesday, January 30th. The communications equipment provider reported $1.67 EPS for the quarter, beating analysts' consensus estimates of $1.39 by $0.28. Harris had a return on equity of 24.49% and a net margin of 8.63%. The firm had revenue of $1.54 billion during the quarter, compared to the consensus estimate of $1.48 billion. During the same quarter in the prior year, the business posted $1.38 earnings per share. Harris's revenue for the quarter was up 5.9% on a year-over-year basis. sell-side analysts expect that Harris Co. will post 6.48 earnings per share for the current fiscal year.
The business also recently declared a quarterly dividend, which will be paid on Wednesday, March 21st. Stockholders of record on Thursday, March 8th will be given a dividend of $0.57 per share. This represents a $2.28 dividend on an annualized basis and a dividend yield of 1.45%. The ex-dividend date is Wednesday, March 7th. Harris's payout ratio is 42.22%.
Institutional investors have recently made changes to their positions in the company. Woodard & Co. Asset Management Group Inc. ADV acquired a new stake in shares of Harris during the 4th quarter worth approximately $134,000. Tower Research Capital LLC TRC raised its position in shares of Harris by 980.9% during the 4th quarter. Tower Research Capital LLC TRC now owns 1,243 shares of the communications equipment provider's stock worth $176,000 after purchasing an additional 1,128 shares during the period. Calton & Associates Inc. bought a new position in Harris in the 4th quarter worth approximately $180,000. First National Bank & Trust Co. of Newtown bought a new position in Harris in the 4th quarter worth approximately $200,000. Finally, Koshinski Asset Management Inc. bought a new position in Harris in the 4th quarter worth approximately $203,000. Institutional investors and hedge funds own 84.99% of the company's stock.
A number of equities analysts have recently weighed in on the company. Cowen reissued a "buy" rating and issued a $170.00 price target on shares of Harris in a report on Tuesday, January 30th. ValuEngine upgraded Harris from a "hold" rating to a "buy" rating in a research note on Friday, February 2nd. Credit Suisse Group upped their target price on Harris from $167.00 to $187.00 and gave the company an "outperform" rating in a research note on Wednesday, January 31st. Finally, Zacks Investment Research upgraded Harris from a "hold" rating to a "buy" rating and set a $165.00 target price for the company in a research note on Thursday, January 18th. One research analyst has rated the stock with a hold rating and eight have given a buy rating to the company. The stock has an average rating of "Buy" and an average target price of $154.57.
COPYRIGHT VIOLATION NOTICE: "Scott T. Mikuen Sells 20,000 Shares of Harris Co. (HRS) Stock" was first reported by The Lincolnian Online and is owned by of The Lincolnian Online. If you are reading this piece of content on another publication, it was illegally stolen and republished in violation of United States & international trademark and copyright legislation. The correct version of this piece of content can be read at https://www.thelincolnianonline.com/2018/03/14/insider-selling-harris-co-hrs-svp-sells-20000-shares-of-stock.html.
Harris Company Profile
Harris Corporation is a technology company that provides products, systems and services that have defense and civil government applications, as well as commercial applications. It offers its products and services to government and commercial customer. It operates in four segments: Communication Systems, which serves markets in tactical communications and defense, and public safety networks; Space and Intelligence Systems, which provides complete Earth observation, environmental, geospatial, space protection, and intelligence solutions from advanced sensors and payloads, as well as ground processing and information analytics; Electronic Systems, which offers a portfolio of solutions in electronic warfare, avionics, wireless and technology, among others, and Critical Networks, which provides managed services supporting air traffic management, energy and maritime communications, and ground network operation and sustainment, as well as information technology (IT) and engineering services.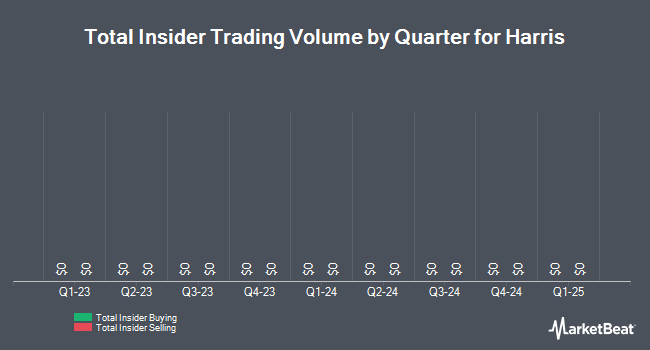 Receive News & Ratings for Harris Daily - Enter your email address below to receive a concise daily summary of the latest news and analysts' ratings for Harris and related companies with MarketBeat.com's FREE daily email newsletter.