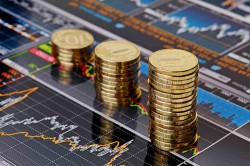 Canadian Tire Co. Limited (TSE:CTC) – Equities researchers at National Bank Financial lowered their Q1 2018 EPS estimates for Canadian Tire in a research note issued to investors on Thursday, Zacks Investment Research reports. National Bank Financial analyst V. Shreedhar now expects that the company will earn $1.33 per share for the quarter, down from their previous estimate of $1.36. National Bank Financial also issued estimates for Canadian Tire's Q3 2018 earnings at $2.84 EPS, Q4 2018 earnings at $4.43 EPS, FY2018 earnings at $11.76 EPS, Q1 2019 earnings at $1.51 EPS, Q2 2019 earnings at $3.44 EPS, Q3 2019 earnings at $3.10 EPS, Q4 2019 earnings at $4.74 EPS and FY2019 earnings at $12.78 EPS.
Canadian Tire (TSE:CTC) traded up C$0.50 during mid-day trading on Monday, reaching C$255.00. The company's stock had a trading volume of 754 shares, compared to its average volume of 375. The company has a market cap of $11,630.00, a PE ratio of 23.74 and a beta of 0.48. Canadian Tire has a 1 year low of C$201.35 and a 1 year high of C$258.90.
Canadian Tire (TSE:CTC) last posted its quarterly earnings data on Thursday, February 15th. The company reported C$4.10 earnings per share for the quarter, topping the consensus estimate of C$3.85 by C$0.25. The firm had revenue of C$3.96 billion for the quarter, compared to analysts' expectations of C$3.85 billion. Canadian Tire had a return on equity of 23.42% and a net margin of 7.45%. ILLEGAL ACTIVITY WARNING: "Canadian Tire Co. Limited (CTC) Forecasted to Post Q1 2018 Earnings of $1.33 Per Share" was originally published by The Lincolnian Online and is the sole property of of The Lincolnian Online. If you are accessing this story on another publication, it was illegally stolen and reposted in violation of U.S. & international copyright and trademark legislation. The original version of this story can be viewed at https://www.thelincolnianonline.com/2018/03/14/canadian-tire-co-limited-ctc-expected-to-post-q1-2018-earnings-of-1-33-per-share.html.
About Canadian Tire
Canadian Tire Corporation, Limited is a Canada-based company, which operates through a range of businesses. The Company's segments include Retail, CT REIT and Financial Services. Its retail segment operates through its retail banners, including Canadian Tire, PartSource, Petroleum, Mark's, and the various FGL Sports banners.
Get a free copy of the Zacks research report on Canadian Tire (CTC)
For more information about research offerings from Zacks Investment Research, visit Zacks.com
Receive News & Ratings for Canadian Tire Daily - Enter your email address below to receive a concise daily summary of the latest news and analysts' ratings for Canadian Tire and related companies with MarketBeat.com's FREE daily email newsletter.