Manulife Financial Corp. (TSE:MFC) (NYSE:MFC) declared a quarterly dividend on Wednesday, February 7th, RTT News reports. Investors of record on Wednesday, February 21st will be given a dividend of 0.22 per share by the financial services provider on Monday, March 19th. This represents a $0.88 annualized dividend and a dividend yield of 3.55%. The ex-dividend date is Tuesday, February 20th. This is a positive change from Manulife Financial's previous quarterly dividend of $0.21.
Manulife Financial (MFC) opened at C$24.78 on Thursday. Manulife Financial has a 52-week low of C$22.39 and a 52-week high of C$27.60. The company has a market cap of $49,110.00, a P/E ratio of 25.29 and a beta of 0.92.
In other Manulife Financial news, Director Rocco Gori purchased 60,694 shares of the stock in a transaction that occurred on Friday, December 15th. The shares were bought at an average cost of C$26.70 per share, with a total value of C$1,620,529.80.
A number of brokerages recently commented on MFC. Scotiabank dropped their price target on Manulife Financial from C$31.00 to C$30.00 and set an "outperform" rating for the company in a research note on Friday, February 9th. TD Securities lowered their price objective on Manulife Financial from C$30.00 to C$28.00 and set a "hold" rating for the company in a research report on Thursday, February 8th. National Bank Financial upgraded Manulife Financial from a "sector perform" rating to an "outperform" rating and raised their price target for the company from C$30.00 to C$31.00 in a report on Wednesday, January 24th. Barclays raised their price target on Manulife Financial from C$30.00 to C$31.00 in a report on Thursday, January 11th. Finally, Desjardins lifted their price objective on Manulife Financial from C$28.00 to C$30.00 in a report on Monday, November 13th. One research analyst has rated the stock with a hold rating and four have issued a buy rating to the stock. The stock currently has an average rating of "Buy" and an average target price of C$30.25.
ILLEGAL ACTIVITY WARNING: This piece of content was posted by The Lincolnian Online and is owned by of The Lincolnian Online. If you are reading this piece of content on another site, it was illegally stolen and republished in violation of United States & international copyright and trademark laws. The legal version of this piece of content can be read at https://www.thelincolnianonline.com/2018/02/22/manulife-financial-corp-mfc-to-issue-quarterly-dividend-of-0-22-on-march-19th-updated.html.
Manulife Financial Company Profile
Manulife Financial Corporation (MFC) is a holding company of The Manufacturers Life Insurance Company (MLI), which is a life insurance company, and John Hancock Reassurance Company Ltd. (JHRECO), which is a reinsurance company. The Company operates as a financial services company with principal operations in Asia, Canada and the United States.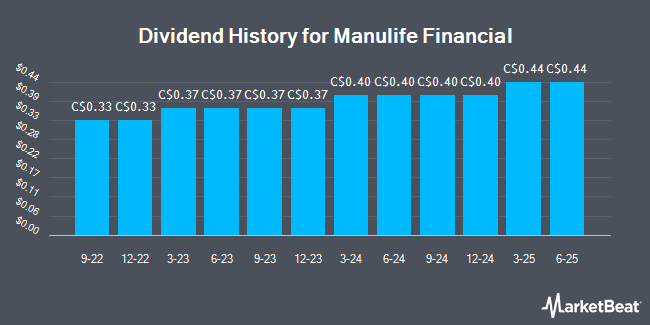 Receive News & Ratings for Manulife Financial Daily - Enter your email address below to receive a concise daily summary of the latest news and analysts' ratings for Manulife Financial and related companies with MarketBeat.com's FREE daily email newsletter.