Life Storage (NYSE:LSI) announced its quarterly earnings results on Wednesday. The real estate investment trust reported $1.34 earnings per share for the quarter, beating analysts' consensus estimates of $0.72 by $0.62, Bloomberg Earnings reports. The firm had revenue of $133.08 million for the quarter, compared to analysts' expectations of $133.46 million. Life Storage had a net margin of 17.79% and a return on equity of 4.65%. Life Storage's revenue was up 3.4% compared to the same quarter last year. During the same period in the previous year, the company posted $1.31 earnings per share. Life Storage updated its Q1 guidance to $1.24-1.28 EPS and its FY18 guidance to $5.33-5.43 EPS.
Life Storage (NYSE:LSI) traded up $0.12 during midday trading on Wednesday, hitting $78.03. 647,704 shares of the stock were exchanged, compared to its average volume of 443,634. Life Storage has a twelve month low of $69.00 and a twelve month high of $91.75. The company has a current ratio of 0.19, a quick ratio of 0.19 and a debt-to-equity ratio of 0.85. The firm has a market capitalization of $3,668.50, a PE ratio of 38.82, a P/E/G ratio of 3.15 and a beta of 0.52.
The company also recently announced a quarterly dividend, which was paid on Friday, January 26th. Stockholders of record on Tuesday, January 16th were given a dividend of $1.00 per share. The ex-dividend date was Friday, January 12th. This represents a $4.00 dividend on an annualized basis and a dividend yield of 5.13%. Life Storage's payout ratio is currently 199.01%.
A number of brokerages have weighed in on LSI. Cantor Fitzgerald reaffirmed a "hold" rating and set a $86.00 price target on shares of Life Storage in a research report on Wednesday. SunTrust Banks reaffirmed a "hold" rating and set a $80.00 price target on shares of Life Storage in a research report on Friday, November 24th. KeyCorp reaffirmed a "hold" rating on shares of Life Storage in a research report on Sunday, November 19th. Jefferies Group set a $86.00 price target on shares of Life Storage and gave the company a "hold" rating in a research report on Tuesday, November 28th. Finally, Robert W. Baird cut shares of Life Storage from a "neutral" rating to an "underperform" rating and set a $92.00 price target on the stock. in a research report on Thursday, January 25th. Six investment analysts have rated the stock with a sell rating, ten have assigned a hold rating and one has issued a strong buy rating to the company. The stock has an average rating of "Hold" and an average price target of $82.14.
WARNING: "Life Storage (LSI) Announces Earnings Results" was originally posted by The Lincolnian Online and is owned by of The Lincolnian Online. If you are accessing this piece on another publication, it was stolen and republished in violation of United States & international trademark and copyright laws. The correct version of this piece can be read at https://www.thelincolnianonline.com/2018/02/21/life-storage-lsi-announces-earnings-results.html.
About Life Storage
Life Storage, Inc, formerly Sovran Self Storage, Inc, is a self-administered and self-managed real estate company. The Company acquires, owns and manages self-storage properties. The Company owns its assets and conducts its operations through Life Storage LP (the Operating Partnership) and subsidiaries of the Operating Partnership.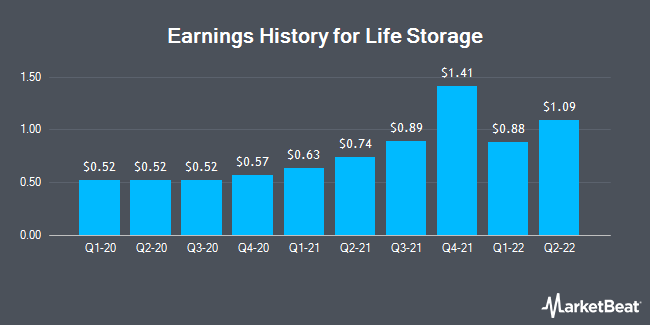 Receive News & Ratings for Life Storage Daily - Enter your email address below to receive a concise daily summary of the latest news and analysts' ratings for Life Storage and related companies with MarketBeat.com's FREE daily email newsletter.