Dycom Industries (NYSE:DY) is set to issue its quarterly earnings data before the market opens on Tuesday, February 27th. Analysts expect the company to announce earnings of $0.35 per share for the quarter.
Dycom Industries (NYSE:DY) last issued its quarterly earnings data on Monday, November 20th. The construction company reported $0.99 earnings per share for the quarter, beating analysts' consensus estimates of $0.90 by $0.09. Dycom Industries had a return on equity of 16.96% and a net margin of 3.81%. The firm had revenue of $756.20 million during the quarter, compared to analyst estimates of $729.35 million. During the same quarter last year, the firm earned $1.67 EPS. Dycom Industries's quarterly revenue was down 5.4% on a year-over-year basis. On average, analysts expect Dycom Industries to post $4 EPS for the current fiscal year and $6 EPS for the next fiscal year.
Shares of Dycom Industries (NYSE:DY) opened at $115.11 on Tuesday. Dycom Industries has a 12 month low of $73.95 and a 12 month high of $123.99. The company has a current ratio of 3.16, a quick ratio of 2.86 and a debt-to-equity ratio of 1.07. The firm has a market capitalization of $3,560.00, a P/E ratio of 27.21, a price-to-earnings-growth ratio of 1.64 and a beta of 1.36.
DY has been the subject of a number of recent analyst reports. Zacks Investment Research upgraded Dycom Industries from a "strong sell" rating to a "hold" rating in a research note on Tuesday, October 31st. B. Riley restated a "buy" rating on shares of Dycom Industries in a research note on Wednesday, November 1st. Stephens raised their price objective on Dycom Industries from $105.00 to $120.00 and gave the company an "overweight" rating in a research note on Thursday, November 16th. DA Davidson lifted their target price on Dycom Industries to $100.00 and gave the stock a "neutral" rating in a research report on Tuesday, November 21st. Finally, Wells Fargo & Co reiterated an "outperform" rating and issued a $109.00 target price (up previously from $88.00) on shares of Dycom Industries in a research report on Tuesday, November 21st. One investment analyst has rated the stock with a sell rating, two have assigned a hold rating and ten have assigned a buy rating to the company's stock. Dycom Industries currently has an average rating of "Buy" and an average target price of $121.50.
TRADEMARK VIOLATION NOTICE: "Dycom Industries (DY) Scheduled to Post Earnings on Tuesday" was originally posted by The Lincolnian Online and is the sole property of of The Lincolnian Online. If you are accessing this article on another website, it was copied illegally and republished in violation of US and international copyright and trademark laws. The legal version of this article can be viewed at https://www.thelincolnianonline.com/2018/02/20/dycom-industries-dy-scheduled-to-post-earnings-on-tuesday.html.
About Dycom Industries
Dycom Industries, Inc is a provider of specialty contracting services throughout the United States and in Canada. The Company, through its subsidiaries, provides program management, engineering, construction, maintenance and installation services for telecommunications providers, underground facility locating services for various utilities, including telecommunications providers, and other construction and maintenance services for electric and gas utilities.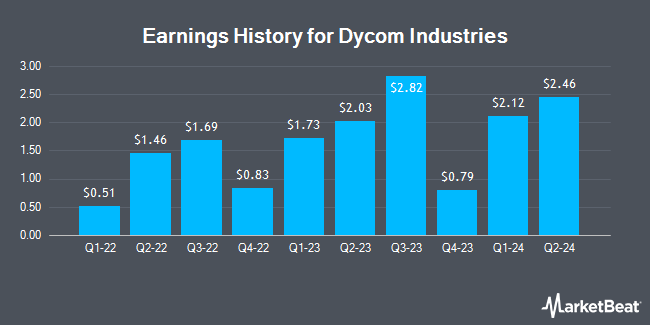 Receive News & Ratings for Dycom Industries Daily - Enter your email address below to receive a concise daily summary of the latest news and analysts' ratings for Dycom Industries and related companies with MarketBeat.com's FREE daily email newsletter.