Telecom plus (LON:TEP)'s stock had its "buy" rating restated by investment analysts at FinnCap in a research note issued to investors on Tuesday, November 21st. They currently have a GBX 1,390 ($18.71) price objective on the stock. FinnCap's price target would suggest a potential upside of 18.91% from the company's current price.
Several other equities analysts have also issued reports on TEP. Peel Hunt reaffirmed an "add" rating and set a GBX 1,360 ($18.30) target price on shares of Telecom plus in a research report on Thursday, August 24th. Macquarie upped their price target on Telecom plus from GBX 1,380 ($18.57) to GBX 1,435 ($19.31) and gave the stock an "outperform" rating in a report on Friday, September 8th. Finally, Royal Bank Of Canada upgraded Telecom plus to an "outperform" rating and upped their price target for the stock from GBX 1,050 ($14.13) to GBX 1,400 ($18.84) in a report on Monday, October 9th. Three equities research analysts have rated the stock with a hold rating and three have given a buy rating to the company's stock. The stock currently has an average rating of "Buy" and an average target price of GBX 1,322.50 ($17.80).
Shares of Telecom plus (LON:TEP) traded down GBX 6.05 ($0.08) on Tuesday, reaching GBX 1,169 ($15.73). The company's stock had a trading volume of 85,943 shares, compared to its average volume of 104,388. Telecom plus has a 12-month low of GBX 1,035 ($13.93) and a 12-month high of GBX 1,342 ($18.06).
TRADEMARK VIOLATION WARNING: This story was originally posted by The Lincolnian Online and is the sole property of of The Lincolnian Online. If you are reading this story on another website, it was illegally copied and reposted in violation of US and international copyright and trademark laws. The original version of this story can be read at https://www.thelincolnianonline.com/2017/12/07/telecom-plus-plcs-tep-buy-rating-reaffirmed-at-finncap-updated-updated.html.
Telecom plus Company Profile
Telecom Plus PLC is engaged in providing landline telephony (calls and line rental), broadband, mobile, gas, electricity and CashBack card services. The Company's segments include Customer Acquisition and Customer Management. The Customer Acquisition segment includes the sale of marketing materials, and sale of equipment, such as mobile phone handsets and wireless Internet routers.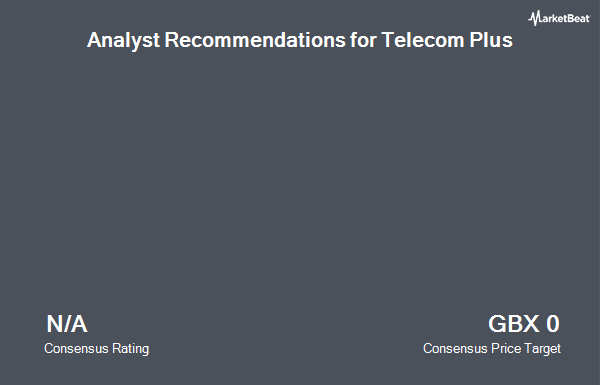 Receive News & Ratings for Telecom plus PLC Daily - Enter your email address below to receive a concise daily summary of the latest news and analysts' ratings for Telecom plus PLC and related companies with MarketBeat.com's FREE daily email newsletter.